Footy starts in the Solomon Islands
Thursday, August 26 2004 @ 09:57 pm ACST
Contributed by: Brett Northey
Views: 4,822

The growth of Australian footy in the South Pacifc continues, with the initial forays into the Solomons solidifying into a formal association and practice matches are underway.
The Solomon Islands Australian Football Association is well on its way, holding an AGM on Tuesday 10th August at the National Sports Centre, with around 100 people attending, almost all being locals. The committee was elected and have subsequently met to discuss plans for developing the code, especially for 12 to 18 year olds. This follows on from work done in 2003, teaching children the sport, including sessions run by Garry McKenzie (now SIAFA President) and a clinic by Australian soldiers (invited to the Solomons to help restore order after years of unrest).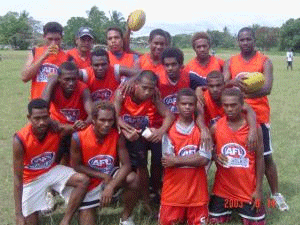 A series of practice matches at KGVI field in Honiara have attracted 38 juniors and 37 seniors, as well as curious onlookers, and a series of practice matches were played. Further trainings are scheduled for every Saturday.
SIAFA is now investigating getting support from Australia, such as fund raising and equipment. They are keen to work with AFL Queensland and also ambitiously hope to attend the 2005 International Cup.