A giant looms in Africa
Thursday, August 12 2004 @ 12:07 am ACST
Contributed by: Brett Northey
Views: 4,459

Australian Rules football has made great gains around the world in recent decades, but Africa has remained largely untouched. South Africa is the exception, and the targeted growth is certainly exciting.
The first known occurrences of Australian football in South Africa are the games played by Australian gold miners in the 1890s, but the game was largely dormant for another century.
In 1997, the North West Province of South Africa had a group representing the province in boxing at the Arafura Games in Darwin. They witnessed a game of Australian Football and were very impressed with the sport. An Australian Defence force squad also toured South Africa. Remarkably quicky the Sport and Recreation Departments of the provinces embraced the game as "the new sport for the new South Africa", particularly impressed by how footy is played amongst both Aboriginals and Caucasians in Australia. In South Africa, there tends to be a divide between blacks/whites and soccer/Rugby.
Australian Rules tours followed, including an AFL pre-season match between Brisbane and Fremantle, and a 1998 end of season trip by the reigning premier Adelaide Crows, who put on coaching clinics and demonstrations for underprivileged children. Further details of the history of the game in South Africa can be found at the South Africa website.
In 2002 South Africa sent a team to the International Cup in Melbourne. It was a great experience but the boys went home without a win. Unlike other regions of the world, they do not have any other countries close by that play Aussie Rules either. South Africa is made up of nine provinces, and the team was mainly drawn from North West Province, but the game is now growing into other regions.
The inaugral Interprovince Championships were held recently, with North West coached by Reggie Mokotedi (the coach of the 2002 South African team) and Mtutuzeli Hlomela coaching neighbouring Gauteng. North West won but Gauteng, which includes Johannesburg and Pretoria, put in a good performance in their first major tournament. 19 year old high jumper Bryan Mitchell is reported to have made an outstanding debut as a ruckman for the province.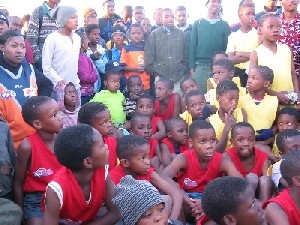 Footy South Africa is also expanding into the Provinces of Limpopo, Western Cape (including Cape Town) and Free State. The first game was held at the Stellenbosch Uni near Capetown in May (pictured left). It is hoped that several provinces will represent South Africa in 2005, and that with a slightly more favourable draw, their first International win could be on the cards.
The cause of Australian Football in South Africa has been aided by several institutions within the country, such as Sport Coaches' Outreach (SCORE), the International School of South Africa, NW Sport Academy and the Department of Sport and Recreation. Other major contributions have come from Australian Volunteers International, Tattersalls and the AFL. FSA recently received a significant boost by successfully obtaining South African Lotteries funding of R394000 (AU$82000 / US$60000 / EUR48000) for 2004/05.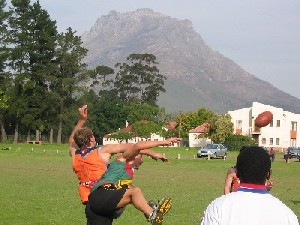 It is estimated that there are now over 300 players and officials involved in footy in South Africa, and Footy South Africa has ambitiously set itself the target of 10,000 players by 2008. If they get even close to that, this large nation at the southern tip of Africa will almost certainly be considered one of the giants of international Australian football (as always, excluding Australia itself). With that sort of expansion, maybe it will be a launching pad for the game to grow further into the continent. Hopefully the AFL will capitalise on the good work being done and play a game again there soon.
A good map showing the provinces of South Africa can be found at Nationsonline.