Game Day 1 - Live Scores and Ladders
Saturday, August 13 2011 @ 12:30 am ACST
Contributed by: Brett Northey

GROUP 1

| Team | W | L | % |
| --- | --- | --- | --- |
| PNG | 2 | 0 | 1628 |
| Tonga | 1 | 1 | 107.8 |
| France | 0 | 2 | 5.1 |

GROUP 2

| Team | W | L | % |
| --- | --- | --- | --- |
| NZ | 2 | 0 | N/A |
| Sweden | 1 | 1 | 116.7 |
| India | 0 | 2 | 0.7 |

GROUP 3

| Team | W | L | % |
| --- | --- | --- | --- |
| South Africa | 2 | 0 | 1556 |
| Denmark | 1 | 1 | 240.6 |
| China | 0 | 1 | 3.3 |

GROUP 4

| Team | W | L | % |
| --- | --- | --- | --- |
| Ireland | 2 | 0 | 2450 |
| Great Britain | 1 | 1 | 140 |
| East Timor | 0 | 2 | 0 |

GROUP 5

| Team | W | L | % |
| --- | --- | --- | --- |
| Nauru | 2 | 0 | 247 |
| Japan | 1 | 1 | 70 |
| Fiji | 0 | 2 | 59.7 |

GROUP 6

| Team | W | L | % |
| --- | --- | --- | --- |
| USA | 2 | 0 | 783 |
| Canada | 1 | 1 | 240 |
| Peace Team | 0 | 2 | 0 |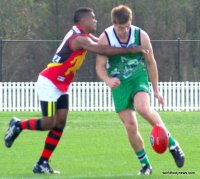 Game Day 1 gallery
All the results from the AFL International Cup Game Day 1 at Blacktown International Sportspark Sydney will be added throughout Saturday 13th August - we're aiming to have scores up for every game at each half (these are 2 x 15 minute half games).
We suggest you refresh your browser regularly to see the latest. Match reports will follow later in the day and into Sunday.
We'll also add photos to our gallery (left) as time permits.
11am BISS 1

| | | |
| --- | --- | --- |
| | PNG | Tonga |
| 1/2 | 3.4 (22) | 1.1 (7) |
| Full | 6.8 (44) | 1.1 (7) |

11am BISS 2

| | | |
| --- | --- | --- |
| | Great Britain | East Timor |
| 1/2 | 7.4 (46) | 0.0 (0) |
| Full | 10.10 (70) | 0.0 (0) |

12pm BISS 1

| | | |
| --- | --- | --- |
| | PNG | France |
| 1/2 | 5.6 (36) | 0.0 (0) |
| Full | 10.10 (70) | 0.0 (0) |

12pm BISS 2

| | | |
| --- | --- | --- |
| | Ireland | East Timor |
| 1/2 | 8.6 (54) | 0.0 (0) |
| Full | 14.9 (93) | 0.0 (0) |

1pm BISS 1

| | | |
| --- | --- | --- |
| | Tonga | France |
| 1/2 | 3.2 (20) | 0.0 (0) |
| Full | 7.6 (48) | 1.1 (7) |

1pm BISS 2

| | | |
| --- | --- | --- |
| | Ireland | Great Britain |
| 1/2 | 2.1 (13) | 1.0 (6) |
| Full | 8.6 (54) | 1.0 (6) |

2pm BISS 1

| | | |
| --- | --- | --- |
| | NZ | Sweden |
| 1/2 | 3.2 (20) | 0.0 (0) |
| Full | 6.5 (41) | 0.0 (0) |

2pm BISS 2

| | | |
| --- | --- | --- |
| | Nauru | Japan |
| 1/2 | 2.5 (17) | 1.0 (6) |
| Full | 6.6 (42) | 3.1 (19) |

3pm BISS 1

| | | |
| --- | --- | --- |
| | NZ | India |
| 1/2 | 9.0 (54) | 0.0 (0) |
| Full | 15.4 (94) | 0.0 (0) |

3pm BISS 2

| | | |
| --- | --- | --- |
| | Nauru | Fiji |
| 1/2 | 5.3 (33) | 0.1 (1) |
| Full | 6.6 (42) | 2.3 (15) |

4pm BISS 1

| | | |
| --- | --- | --- |
| | Sweden | India |
| 1/2 | 3.3 (21) | 0.1 (1) |
| Full | 7.7 (49) | 0.1 (1) |

4pm BISS 2

| | | |
| --- | --- | --- |
| | Japan | Fiji |
| 1/2 | 2.3 (15) | 2.4 (16) |
| Full | 4.6 (30) | 4.4 (28) |

5pm BISS 1

| | | |
| --- | --- | --- |
| | South Africa | Denmark |
| 1/2 | 1.0 (6) | 1.1 (7) |
| Full | 4.2 (26) | 1.3 (9) |

5pm BISS 2

| | | |
| --- | --- | --- |
| | Canada | USA |
| 1/2 | 2.0 (12) | 2.0 (12) |
| Full | 2.0 (12) | 2.3 (15) |

6pm BISS 1

| | | |
| --- | --- | --- |
| | South Africa | China |
| 1/2 | 10.2 (62) | 0.0 (0) |
| Full | 18.6 (114) | 0.0 (0) |

6pm BISS 2

| | | |
| --- | --- | --- |
| | Canada | Peace Team |
| 1/2 | 0.1 (1) | 0.0 (0) |
| Full | 3.6 (24) | 0.0 (0) |

7pm BISS 1

| | | |
| --- | --- | --- |
| | Denmark | China |
| 1/2 | 4.4 (28) | 1.0 (6) |
| Full | 10.8 (68) | 1.0 (6) |

7pm BISS 1

| | | |
| --- | --- | --- |
| | USA | Peace Team |
| 1/2 | 6.2 (38) | 0.0 (0) |
| Full | 12.8 (80) | 0.0 (0) |