World Rankings and European Championships
Thursday, October 10 2019 @ 03:59 pm ACDT
Contributed by: Cam Homes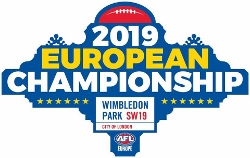 The first day's round of matches has seen several changes in the World Footy News World Rankings.
These have occurred mainly because Denmark has upset Ireland and Great Britain defeated Croatia.
Denmark has clawed back over 3.10 Rating Points in knocking off Ireland and their win over Germany resulting in the Vikings jumping from eleventh place to Eighth place. Great Britain's wins over Croatia and France has seen the Bulldogs climbe two places to seventh from ninth.
The Croatian Knights loss to the Bulldogs has seen them slip to eleventh from seventh.Denmark and Great Britain have ion their upward climb shunted South Africa down to ninth from eighth.
As the full scores from the matches haven't yet been published the actual rating points for all the nations are not set in stone. So I will only publish the new Full Rankings after the conclusion of the Championships.
Tempory Rankings and Rating Points are below:
4 Ireland 53.64  were 4th
5 Nauru 52.97 5th
6 USA 49.34 6th 
7 Great Britain 47.86 9th
8 Denmark 46.80 11th
9 South Africa 46.61 8th
10 Canada 45.84 10th
11 Croatia 45.55 7th
15 Germany 37.42 15th
16 France 36.00 16th
More  to come over the next couple of days.
Comments (0)
---
World Footy News
http://www.worldfootynews.com/article.php/20191010155939946