The Yankee Progress Report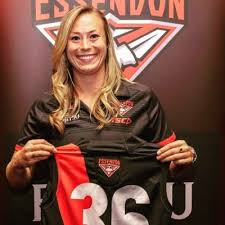 It's late July, which means it's crunch time for footy teams all across Australia. As for the growing handful of American expats playing local footy in Melbourne and beyond, it's also a chance to cement a spot in a side heading into the postseason.
As mentioned previously here on WFN, the number of Americans having a go has greatly increased, particularly in the women's game. The Western Bulldogs recently made history by signing Dani Marshall from the Arizona Lady Hawks, making her the first US player to make it onto an AFLW list. Marshall, a versatile athlete, had a recent audition with the Bulldogs' VFLW side in between a stint at Aberfeldie in the Essendon District Football League.
Meanwhile, the Darebin Falcons women's team has gained a new American: Valerie Barber-Axthelm, who arrived in June. Ever since the 2017 International Cup, the former Seattle Grizzly had long hoped to pursue footy opportunities in Australia, and when her husband got approved for a visa to study for his PhD at the University of Melbourne, she decided to have a crack. A hard-working defender, Barber-Axthelm has been able to carve out a niche for the Falcons' D1 side, which is currently standing at second on the ladder with a 9-2 record.
As for yours truly, I'm pleased to report that the Caroline Springs' WRFL reserves are tracking very well heading into September action. While a very young side, the Lakers have unearthed a lot of talented playmakers that bode well for the club's future. We're currently at third on the ladder and should challenge come finals.
Across town, Houston's David Restrepo and Seattle's Max DePina are settling in nicely with the Melbourne Uni Blacks, who are hitting the latter half of the season hard with a 9-2 mark. Both players are USA Revo alums who will certainly be putting their hands up for consideration again at the 2020 International Cup.
Another former Seattle star, April Lewis, has finally made her debut for the Essendon women's side after injury issues derailed the start of her season. Lewis, like Marshall, is a product of the CrossCoders program, which has helped a number of talented female footballers get their start in the AFLW system.
Former Portland Sockeye Jess Blecher might have had the most intriguing journey of all. In only two years of playing in Australia, Blecher has played for three separate teams in three different leagues, culminating in her current stint with Collingwood, which currently holds the top spot on the ladder in the VFLW. Blecher has also had successful stints with Keilor in the Northern Football Netball League, as well as the Nightcliff Tigers in the Northern Territory Football League.
It's undoubtedly exciting to see American players find form and make impacts as the season progresses. Here's to an exciting September for all.
Picture: Former Seattle Grizzlies player, now Essendon VFLW, April Lewis