Adam Goodes' Story A Wake-Up Call
Tuesday, July 23 2019 @ 03:43 pm ACST
Contributed by: Wesley Hull
Views: 1,356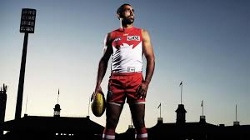 Like many others last week, I watched the documentary film "The Final Quarter" which looked in detail via media accounts at the treatment of former Sydney Swans' player Adam Goodes. The response to the documentary – through media and football (and many non-football) public has been described by some as polarising.
In truth, it appears that the overwhelming majority of watchers were upset and dismayed at what occurred during Goodes' final playing years (demonising, booing, racist remarks and actions), yet a small minority still wish to lay the blame squarely at Goodes' own feet.
To detail events, and the show itself, would be too large an article. It is best for schools, clubs or workplaces to contact the film makers directly to access a copy (
https://thefinalquarterfilm.com.au/
) or keep an eye out on Foxtel for repeats of the show.
In short, the documentary paints an awful picture of racism disguised as an entitlement of fans and commentators to say whatever they wish about an indigenous champion and be absolved from any criticism because "all is fair in being a supporter" or "he brought it on himself".
Adam Goodes stands amongst the highest echelons of Australian Rules footballers, and indeed sportsmen and women in any field. The Sydney Swans legend boasts an amazing CV – 2014 Australian Of The Year, dual Brownlow Medalist, dual premiership player, four times All-Australian and 372 AFL games – the most by ANY indigenous player and eighth place overall on the list of VFL/AFL games played by any player.
Goodes was not an ordinary footballer, and not an ordinary person. His fight against racism, combined with his football talent, saw him both applauded and vilified across his career, but it became intolerable in his later years, leading to his self-imposed exile from the game with indefinite leave during the 2015 season and retiring by season's end.
It is true that Goodes, at 35 years of age, may not have played much longer anyway – his body and mind, like all other players, had a "use by" date. However, his exit from the game was hastened by his treatment by enough members of the public and media to break him.
For more detail, watch the show yourself or read the huge amount of articles on the topic.
Myself, I cannot go on and become any sort of authority on the events, causes or impacts detailed in the documentary. However, I can commentate on one particular aspect that haunts me and deserves airing. No amount of money or opportunity allows for any player to give up their human right to NOT be vilified. It is wrong at the highest level to say that Adam Goodes was paid big dollars, therefore we can racial abuse and vilify him. It does not follow that money is a cure for the deep-set emotional damage caused to people of any race, creed, colour, culture, gender or any other catagorisation.
Hurt is hurt. Despair is despair. Damage is damage. Mental health is mental health. RACISM IS RACISM – no matter how much money is involved.
I was incredibly fortunate to have coached a particular football team here in Australia for nine years. Surrounding that has been a 20 year junior coaching career in schools. But it is my club team's story which I refer to here – specifically the players.
The club boasted an indigenous player proportion of around 90-95 percent. We were a heavily indigenous club – and both grateful and proud of that. Watching some of the incredible talent on display each week created such excitement that a week was too long between matches and six months between seasons was criminal.
I witnessed the good, the bad, the ugly and also the indescribably brilliant.
I proudly coached one particular boy (man now) who's talent was ludicrous. His speed, strength, anticipation, awareness and skill had him pinned as a future AFL star when he was older. I watched this lad and another take a ball at fullback and through a chain of handpasses to each other, bamboozled the opposition as if they were plastic markers on the ground, and score a goal with no other players touching the ball. It wasn't selfish at all – it was sheer brilliance.
This same boy, for his efforts, managed to often get called a "black c***" by unenlightened members of (junior) crowds for years. If you could think of a horrid, abhorrent racist term, I think we heard it yelled from the crowds at more than one venue involving supporters of more than one team.
At one ground where the bar overlooked the field, and men who's playing days had long passed, gave drunken advice to junior players. The insults were not those of people bagging the opposition - they were racial and harmful in intent.
Those days (and perhaps it still is – I've retired now), the onus of racial vilification to prove it happened was squarely on the vilified and/or their club. We were not in possession of devices to record sound (we were busy "coaching") so were never able to get the smoking gun.
But it happened, and it happened again…and again.
One day this boy cracked. The taunts became too much. He jumped the fence and challenged the racism. In a sense, he went too far. In another, he didn't go far enough. He faced suspension over the incident, yet the people who racially abused him were never found or brought to account.
Through racist slurs, a young person's career was ruined. Some said it's up to him to handle things better – not get so upset. HE WAS CONTINUALLY RACIALLY ABUSED OVER MANY YEARS.
He did not ask for the treatment – it was granted happily and free of charge by ignorant, racist people using power over another. Like Adam Goodes, this boy "brought it all on himself by reacting in a way we do not like".
I am not indigenous. I have no idea how hurtful and damaging racial vilification can be. All I have is a love of all people and a belief that nobody deserves to be deliberately hurt, vilified, mistreated or dehumanised just because of difference – any difference.
There will be people who deny what I have written, or at least argue against it. There will be some who, somehow, arrive at the conclusion that their right to speak their minds is of greater value that another's right to be treated as a human being – that little trade-off is actually the basis of all racist, sexist, religious, gender or cultural vilification.
And it lies beneath the glistening, shimmering surface of a sport we love. Hidden just below the surface is a world that my past player, and Adam Goodes, and Nicky Winmar and every other indigenous player who has pulled on a boot has witnessed through abuse. Often loud and easily heard, sometimes more insidious, but there.
It is something which helps the argument that Australia, despite its claims to mateship, tolerance and giving everyone a fair go, is actually flawed with an undercurrent of racism and wider vilification.
Sadly, the more we deny it, the more unlikely it is to ever go away.
If we want change, we need to witness what Adam Goodes experienced. Watch "The Last Quarter" documentary if you can. Understand – learn – change. Just don't sweep it under the carpet to fester.
The documentary wants us to stand up to racism. Adam Goodes wants us to stand up to racism. My young player (thankfully, he still plays footy, but not at the level he was destined to) wants us to stand up to racism as does any indigenous player I have coached – or any player anywhere.
"The Last Quarter" was designed to inform and be a catalyst for change. Let's hope it succeeds.