A Room With A View
Wednesday, July 17 2019 @ 09:38 pm ACST
Contributed by: Wesley Hull
Views: 1,006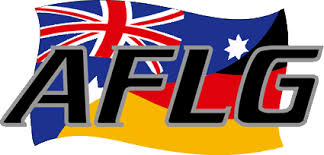 After the completion of Round 7 in the AFLG competition, the Hamburg Dockers sit comfortably in the penthouse. It would take some sort of minor miracle for them to NOT win the minor premiership with just two matches to play and they are two games and percentage clear in first place.
The view from there is awesome. In the not too blurry distance is the chance at back-to-back premierships. On the lower floors, the other teams jostle for their final finishing places. The top four is decided, if not the order. Fifth place (Dresden Wolves) is a lock. They will finish fifth almost regardless of what happens from here. The only real change is if the Zuffenhausen Giants can win a game and leapfrog the Rheinland Lions to get off the bottom of the ladder, or, if you like, the basement.
Last weekend's results went largely to script. The Dresden Wolves enjoyed their third win of the season in their most successful season to date when the downed the Zuffenhausen Giants. The Frankfurt Redbacks sealed a finals berth with a win over the Rheinland Lions and the Hamburg Dockers strengthened premiership favouritism with a win over the Berlin Crocs.
Round 8 will see the Dresden Wolves hosting the Berlin Crocs. Dresden would love to have a win in their last home game for the season. However, the Crocs are still jostling for third place and face the Dockers in the final round. They need the win in Dresden.
The Frankfurt Redbacks take on the rampant Hamburg Dockers and will be seeking a solid performance ahead of finals. The Munich Kangaroos will play the Zuffenhausen Giants and on form could inflict some damage.
In the AFLG Women's competition, the Berlin Crocodiles are assured of the minor premiership. They play just one more match ahead of finals – against second placed Hamburg. They are already two games clear and percentage on top and even though the Dockers have two matches left to play, it will be near mission impossible for them to displace the Crocs.
For the time being, however, the Hamburg Dockers can look at the view ahead in the men's competition and enjoy the view.