Odense Lions Surprise In Denmark
Wednesday, July 03 2019 @ 09:54 pm ACST
Contributed by: Wesley Hull
Views: 885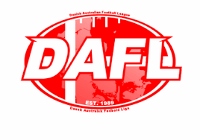 With the Danish footy season in a small mid-season recess, there is time to review what had happened in the DAFL in 2019 and what might yet happen. Leading the discussion is a revitalised Odense Lions team already on track for finals and potentially their most successful season yet.
With seven rounds down and just six to go, some patterns are already appearing. The Farum Cats hold top sport with four wins, holding off the Port Malmo Maulers and Odense Lions on three wins apiece. The Copenhagen Giants are in the top four ahead of the so far winless Aalborg Kangaroos.
The Cats are undefeated and face the prospect of keeping things that way, having asserted their dominance with big wins against their nearest rivals – the Maulers and Lions.
The Odense Lions spent the off-season developing their new home ground at Bolbro as a stable base for their future. Their on-field performance has certainly shown that, winning their opening two matches this season as well as a narrow three-point loss against the Maulers. It has been an impressive season to date from the Lions and they cannot be discounted from premiership talk.
However, their finals campaign effectively starts two matches earlier than the others, meeting both the Cats and Maulers in their final home and away matches. Those results will have a big say on their season, as well as the seasons of the other teams.
The Farum Cats meet both the Maulers and Lions in their next two matches. Two wins and it will be hard to see any team stopping them from claiming the flag.
The Copenhagen Giants should hold onto fourth place. It is difficult to see where the Aalborg Kangaroos first win will come from, but their next match against the Giants in Round 9 will either seal the top four, or give the Kangaroos heart to spring another upset and usurp the Giants. Possible, but on form unlikely.
There is still much to play out ahead of the September finals, with all five teams having plenty to play for.