Hamburg Dockers' Title Defence On Track
Wednesday, July 03 2019 @ 08:50 pm ACST
Contributed by: Wesley Hull
Views: 781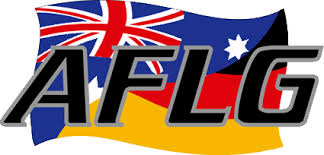 With just four rounds remaining in Germany's AFLG competition, it is becoming glaringly apparent that last year' premiers the Hamburg Dockers are primed to hold the title in 2019. Two games clear at the top of the ladder and undefeated, the Dockers appear to have all challengers covered.
With three games left – two against the Berlin Crocs and one against the Frankfurt Redbacks – it seems likely that only a huge upset from here will see them lose a game before the finals. The Dockers have downed each so far this season, though not by big margins.
The Frankfurt Redbacks held the lead for most of their match against the Dockers in Round 5 before being run down in the final quarter. Similarly, the Berlin Crocs kept the game tied up to half time before the Dockers grabbed the ascendency later in the game. Both teams have fought hard, but in the end, the Dockers had their measure.
The Munich Kangaroos have bullied most teams this season. Their average winning margin in their past three wins has been well in excess of 100 points. But within that run was a 77 point loss to the Dockers, suggesting a gulf between the top placed Dockers and second placed Kangaroos.
Time will tell, but on face value, it is hard to see who will truly challenge the Dockers prior to grand final day in September.
One smaller point of interest (though not if you are a Dresden or Frankfurt fan) is the battle for fourth place. Currently the Redbacks hold fourth spot. They are two games clear and have a massive percentage advantage. Each has three games to play, including two matches each against lower teams.
However, if Dresden wins both matches against the Zufferhausen Giants and produces an upset to down Berlin on their home turf they could put massive pressure on the Redbacks. The Redbacks only need to win one of their remaining matches to hold fourth place. However, with two matches against the Rheinland Lions (one away) and a clash with the Dockers, the Redbacks cannot afford to lose all three. They won't, but it will put a nasty little thought in the back of their minds.
Regardless of final ladder placing, the Dresden Wolves are on track for their best season yet, with the prospect of four to five wins for the season – something the club can be proud of and build from.
It shapes once again to be a big finish to the AFLG season.