Left Foot, Right Foot or Both
Tuesday, July 02 2019 @ 03:06 pm ACST
Contributed by: Wesley Hull
Views: 941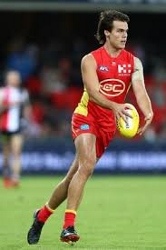 Maybe I grew up in another era. On the other hand, perhaps I just had very good coaches when I was a kid. However, in my junior footy days down in Victoria, kicking with both feet was simply expected by coaches. We were encouraged to use our stronger preferred foot to cover ground and maybe for pinpoint accuracy. Nevertheless, all of my team-mates back then could kick with both feet. 
It amazes me, then, that the following article by Callum Twomey at www.afl.com.au raises such an issue. Moreover, the fact that it unearths different types of thinking on the subject at the highest levels is a surprise to me – someone who would use the "Bradmanesque" (hitting a golf ball with a stick thousands of times to improve skills) style training by kicking either foot in the backyard to get better on my unnatural left foot.  
Dad told me that if I was ever going to be a good footballer I would have to learn that skill. The most simple premise was that the time wasted trying to manoeuvre onto my preferred foot gave the opposition time to catch me or impact my kick – the opposite foot gave me more options and a full 180 degree arc to use the ball in.
 Interestingly, the Jack Bowes in this story is the same Jack Bowes I knew when he was a young kid. I worked for his grandfather, and on a couple of occasions Jack's family dropped by the office. I saw this kid when he was three or four years old with his dad kicking in the yard with both feet because dad had already taught him this fundamental skill.   
To me, kicking with both feet is a given. It is a skill that I often see missing at junior level, leading to more and more drills to improve the player. In places where the game is growing, the skills are growing proportionately. They need to if a player is to become fully effective and damaging with the ball. 
However, this article from Callum Twomey certainly lends new thoughts to the argument.
Why Kicking On The 'Wrong' Foot Is Dividing Opinion
IF JACK Bowes hadn't grown up practising kicking on his non-preferred left foot, Gold Coast wouldn't have beaten Carlton in round four. 
The Suns midfielder's snap in the dying seconds of their clash at Metricon Stadium handed his side a two-point win.
But it was only possible if the 21-year-old was able to turn onto his left side and complete the kick under pressure.
In a packed Suns forward 50, there was no time for him to balance up and kick on his accomplished right foot, and a checkside kick on the outside of the foot was also out of the equation. 
 But is the ability to kick on a non-preferred foot the rule for AFL players or the exceptionω Which should it beω And do coaches and recruiters even careω Opinion remains divided.
Wayne Carey is regularly surprised by players' inability to turn onto their wrong side, by foot and hand.
The North Melbourne legend was an excellent kick on his non-preferred left foot (who can forget his brilliant 'banana' goal in 1999 against Essendonω) and is aware of the benefits of having a skill balanced on both sides of the body.  
"From eras of the past, it was like if you can't kick on your wrong side then you'd struggle to make the grade. Whereas these days they clearly don't practice it as juniors, or they don't see it as important," he told AFL.com.au. 
"I guess some of the players now think their speed gets them out of trouble so they can get onto their preferred side. 
"But I think of (Hawthorn champion) Sam Mitchell and guys like him and how the game opens up for the double-sided player. You don't have to get back as far off the mark because you can use the opposite side. It buys you a lot of time." 
Bowes' goal exemplified why Carey values players who can kick off either side. 
"Some players when they're under pressure on their right side will try a banana kick on their left in front of goal, which invariably misses. It can be an easier shot on your left," Carey said. 
Alongside Carey, former Port Adelaide and Essendon gun Gavin Wanganeen, Brisbane Lions premiership hero Jason Akermanis, and Richmond and Western Bulldogs forward Nathan Brown are among the stars from the previous era who were brilliant dual-sided players. 
Former Sydney and Melbourne coach Paul Roos understands the value of being one, but didn't encourage his players to use their non-preferred side once they reached AFL level.  
Champion Data statistics show that about 39 kicks per match (across both teams) are on a player's non-preferred foot. That equates to just below nine per cent of all kicks, a rate that has been steady since the game's statistics supplier started recording it in 2010. 
Roos has always had the view his players should focus on becoming better kicks on their preferred foot, unless they are like Mitchell, whose 'craft' kicking sessions at Hawthorn are legendary: he would kick ball after ball on his non-preferred left foot after training until it was as sharp, nimble and damaging as his right. 
"I'd rather the 10 non-preferred kicks go out on the full and the 90 preferred hit someone on the chest. That's my philosophy. I have a very different philosophy to some people," Roos said. 
"You can practice on it. But if you're trying to practice now at AFL level, and wanting to be proficient, unless you're doing a heap of extras, it's never going to work. 
"I certainly wasn't worried as a coach if blokes couldn't kick on their wrong foot. I played 369 games and to be perfectly frank I reckon I kicked on my left foot 20 times. 
"It wasn't something we were focused on when I coached. Some of the guys could do it, and some were terrible. It was embarrassing how bad they were. So what do you do [by then]ω" 
The ex-Fitzroy and Swans champion believes a cultural shift is in part to do with the lack of players coming into the game with a strong ability on their non-preferred feet.
"Instead of playing PlayStation and being on the internet as a kid they'll need to get out there and kick the footy a lot," he said. 
"Where we are as an industry now, it's just not a debate worth having because if players aren't proficient at it, they're not at the club long enough to work on it. 
"And for about 10 per cent of kicks, it's not worth worrying about. I'd rather worry about blokes learning defensive transition, and running harder and being better kicks at goal." 
Carey disagrees. 
"The reason for that number is because they actually can't do it. If you look at players who can use their opposite foot, they do it quite a bit. I think the complete opposite," he said. "You automatically become a better player and the field opens up. 
Recruiters have to assess a prospect's skills – and capacity to improve – before they reach the AFL level. 
At the NAB AFL Draft Combine there is a kicking test on both feet, where kicks at short, medium and long distance on both feet are scored out of five. But the clubs feel the more accurate judgement comes from scouring through game vision.  
"It's certainly something you evaluate, and it's still important," one club recruiter said. 
"It can be an indicator on how they'll deal with the tempo of the game as it increases, and if they're continually getting caught in the speed of the contest then they'll need to be able to use two sides." 
Scouts don't see it as a deal-breaker if a player can't kick on his non-preferred side, but think certain positions – particularly being a small goalkicker or small/medium defender – are assisted by being 'two-footed'.
"A lot of clubs' coaches will say 'Don't use your wrong foot unless you have to'. For us, it can depend on the player's other strengths as to how important it is," the recruiter said.  
The original story from Callum Twomey can be found at: https://www.afl.com.au/news/2019-06-23/balancing-act-why-kicking-on-the-wrong-foot-is-dividing-opinion