French Footy Arrives At Winter Break
Sunday, December 09 2018 @ 10:36 pm ACDT
Contributed by: Wesley Hull
Views: 1,301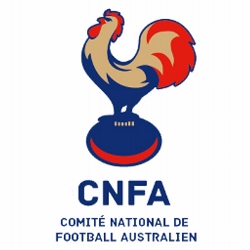 The fourth round of the Championnat de France Léo Lagrange 2018-2019 wrapped up this weekend ahead of the winter break. Round Five will commence in early March. To see out the round, three matches were played in Paris and Bordeaux – each shaping the ladder and making things interesting when footy returns.
In Bordeaux, the ALFA Lions took on the Bordeaux Bombers in a match that was vital for each team's chances of seeing finals action. Each team went into the match with a win and the victor would get the jump on their opponent. The Lions got away to a good start, leading by 14 points at the first change and by 28 at half time.
The Bombers could make no inroads in the second half, down by 49 points at the final change before going down after a late rally by 39 points. The final score saw the ALFA Lions 106 defeat the Bordeaux Bombers 67.
In the double-header in Pontoise, the Paris Cockerels took on the Stade Toulousain "A" team. After a scoreless opening term, the Cockerels had to claw back hard and held a one goal lead at the main break. The conditions allowed the Toulouse team to get back into the lead by 13 points at the final change, but it wasn't enough as the Cockerels ran over the top to win 79 to 60 after a five goal to nil final term.
The Cergy-Pontoise Coyotes played the Stade Toulousain 1 team determined to win and set up the second half of the season next year. In the end, the Coyotes were far too strong for the Stade Toulousain team, running out 86-point winners. The final score saw the Coyotes 140 defeat the Stade Toulousain 54.
The results create a healthy situation where all remaining teams (the Perpignan Tigers having withdrawn) can reach the finals with a couple of wins over the remaining five rounds – a healthy place for the CNFA competition to be at the end of 2018.