Round Three AFL Middle East - A Defining Round
Thursday, December 06 2018 @ 09:58 am ACDT
Contributed by: Wesley Hull
Views: 1,374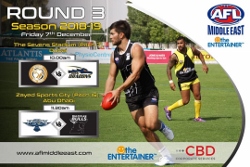 The thing with four team competitions – and only a small amount of rounds – is that seasons can be defined quite early. The AFL Middle East competition goes into that mode with Round 3 today, marking the halfway point of the 2018/19 season. If the favourites for each match wins, it will be difficult to see major changes prior to finals.
However, conversely, the beauty of such competitions is that favourites don't always win. In both Dubai and Abu Dhabi tomorrow, underdogs have the chance to turn the completion on its head.
Last round, the Abu Dhabi Falcons were desperately unlucky to lose to top team, the Dubai Dragons. Outplayed early, the Falcons rattled home to lose to the reigning champions by just two points, raising the issue of what might have been with four quarters of footy. At home again this round, the Falcons have the chance to show what could be when they take on the Multiplex Bulls. The Bulls will start favourites after their last start win against the Dingoes, but the Falcons will be primed to play four quarters and steam a win.
In the other game, the Dragons look to be too powerful for the Dingoes on the surface. However, dig deeper and there is evidence that this really is a two-horse race. The Dingoes defeated the Falcons in Round 1 in a confidence-building opening to the season. Last weekend they faced a nastier Bulls outfit and lost. However, they have winning form this season. The Dragons sit undefeated, yet that if not a true reflection of dominance. Their wins have both been by less than a kick. A win is a win, but behind the win is an ounce of luck and if the Dingoes can exploit that, an upset is in the brewing.
Wins to the two favourites could see the competition whittled down to three finalist chances by tomorrow. However, wins against the odds by the lesser fancied teams can ensure this season goes to the wire.