Mozzies Triumph In Movember
Monday, December 03 2018 @ 10:04 pm ACDT
Contributed by: Wesley Hull
Views: 720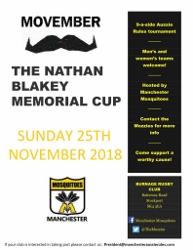 Over the past five years, the Manchester Mozzies have dominated the AFLCNE competition with five consecutive premierships. Yet, in that time they had not won the silverware for their end of season tournament – the Movember Cup. However, that all changed on November 25th when the Mozzies outlasted the Wandsworth Demons from London by a goal. In the women's draw, the Nottingham Scorpions downed the Birmingham University united team.
The Movember Cup has been played since 2011 in honour of former Manchester Mozzies premiership player Nathan Blakely. Blakely played in the Mozzies maiden premiership in 2010, but passed away the following year. The Nathan Blakely Memorial Cup (Movember Cup) has been played in all but one year since with the aim of raising money for cancer. This year, more than 1000 pounds was raised on the day through donations and other fund-raising.
The day featured ten teams – six men's and four women's – including teams from AFL London (Wandsworth Demons, London Swans), SARFL (Tyne Tees Tigers), National University League (Birmingham University) and the AFLCNE (Manchester Mozzies, Nottingham Scorpions).
Scores in the preliminary rounds were:
Men's Division –
London Swans 15 6 96 d Birmingham Uni (2) 1 0 6
Manchester Mozzies 4 5 29 d Birmingham Uni (1) 2 3 15
Wandsworth Demons 6 5 41 d Birmingham Uni (1) 4 5 29
Manchester Mozzies 12 5 77 d Newcastle Tyne Tigers 1 5 11
Wandsworth Demons 3 6 24 d London Swans 2 1 13
London Swans 4 2 26 d Birmingham Uni (1) 3 3 21
Newcastle Tyne Tigers 14 4 88 d Birmingham Uni (2) 4 5 29
Wandsworth Demons 10 8 68 d Newcastle Tyne Tigers 7 1 43
Manchester Mozzies d Birmingham Uni (2)
Women's Division –
Nottingham Scorpions 5 8 38 d Birmingham Uni (2) 0 3 3
Birmingham Uni (1) 2 7 19 d London Swans 2 3 15
Nottingham Scorpions 13 9 87 d London Swans 1 0 6
Nottingham Scorpions 5 10 40 d Birmingham Uni (1) 4 2 26
London Swans 4 3 7 d Birmingham Uni (2) 2 5 17
Birmingham Uni (1) 6 8 44 d Birmingham Uni (2) 1 1 7
Finals:
Manchester Mozzies 45 d Wandsworth Demons 39 (Men's)
Nottingham Scorpions d Birmingham Uni (Women's)