Cockatoos Down Lions In French Thriller
Sunday, December 02 2018 @ 03:32 pm ACDT
Contributed by: Wesley Hull
Views: 588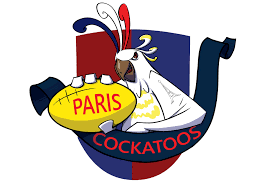 In one of the tensest matches of the CNFA season to date, the Paris Cockatoos have outlasted a gallant ALFA Lions after a thrilling match in Lyon. In a game that could have gone to either team, it was the Cockatoos that came from behind to steal the match.
The Lions got the better of a tight opening quarter, holding on to a three point quarter-time lead. They were able to extend that lead to a handy 15 points at the main break and would have to just hold back the tide.
However, the Cockatoos were not done with and produced a strong third quarter to grab the lead – only just – and put the pressure squarely back on the Lions. Whilst the Cockatoos lead was only five points, it was the momentum shift that spoke the loudest with effectively a five goal to one quarter being the drive for a big last quarter.
In the end, the Cockatoos won the last quarter also to run out victors by 17 points. In recent times, the two teams have locked horns in some big clashes – this year's Coupe de France and the 2016/17 grand final two prime examples – and have formed a healthy rivalry. This latest clash just adds to that competitiveness between the two teams.
Nevertheless, the cold hard facts are that the win for the Cockatoos puts them right in the finals mix headed towards the winter break, whilst the Lions will be desperate to turn their season around next weekend in Bordeaux to stay with the frontrunners.
Final Scores:
Lions 2 5 17 v Cockatoos 2 2 14 (Quarter Time)
Lions 6 9 45 v Cockatoos 4 6 30 (Half Time)
Lions 7 14 56 v Cockatoos 9 7 61 (Three-Quarter Time)
Lions 10 17 77 lost to Cockatoos 14 10 94 (Full Time)