AFL England National University League Commences
Thursday, November 15 2018 @ 10:01 am ACDT
Contributed by: Wesley Hull
Views: 1,214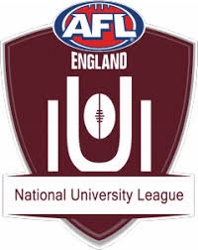 The latest initiative of AFL England, the National University League, commenced last weekend. The competition brings together the talent in men's and women's football across England and southern Wales and is running also as a prototype for a wider uptake across all of Europe.
Cambridge University held nominal favouritism going into the event for the men's draw, as much to do with being the host team as anything else, whilst the women's draw was a little less predictable given the comparative lack of competition in preceding years. The competition combined players from each university who had played for the team before as well as new faces, providing a great opportunity to further grow the game in universities.
Clearly, Birmingham had not read the script going into the weekend. They took the opening day honours in the men's draw, downing both Cambridge and Oxford to start the season with an unblemished record. Oxford defeated Cambridge in the other match.
In the women's draw, Oxford were too good for their competition, downing both Cambridge and Birmingham comfortably.
After round one we see Birmingham lead the men's competition and Oxford leading the women's with two wins each.
The next round of the competition will see the debut of the South Wales Students team. Hosted by Oxford University on December 1st, it will see Birmingham enjoy the bye while Oxford, Cambridge and South Wales do battle. It is also the first "Rainbow Round" tying into the Rainbow Laces campaign in autumn.
In other news, AFL England announced last week that the men's best & fairest medal would be named in honour of the games co-founder and called the Tom Wills Medal. The women's game will also receive a best & fairest medal to be named at a later date.
Round 1 Results:
Men's Division
Oxford 10.11 (71) def. Cambridge 3.3 (21)
Birmingham 7.4 (46) def. Oxford 4.5 (29)
Birmingham 6.6 (42) def. Cambridge 3.6 (24)
Women's Division
Birmingham 3.3 (21) def. Cambridge 2.6 (18)
Oxford 5.10 (40) def. Birmingham 4.2 (26)
Oxford 7.6 (48) def. Cambridge 0.2 (2)