How The 'Cora Effect' Has Boosted Irish Numbers
Thursday, November 15 2018 @ 08:41 am ACDT
Contributed by: Wesley Hull
Views: 1,040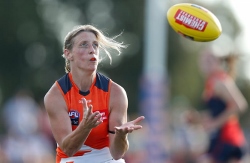 Sarah Black reports on the www.afl.com.au website about the impact that Greater Western Sydney AFLW player, Cora Staunton, has had on the women's game in terms of more Irish women chasing an AFLW dream.
The 2019 AFL Women's season will see five Irish born-and-bred players, including Staunton, on club lists.
It's a noticeable increase from the two in 2018, one of whom, expat and now-delisted Demon Laura Duryea, played her football in Melbourne before being drafted.
The four new recruits come from a Gaelic football background, with Sarah Rowe (Collingwood rookie), Ailish Considine (Adelaide rookie), Yvonne Bonner (GWS rookie) and Aisling McCarthy (Western Bulldogs' senior list), moving from across the world to play AFLW.
 The influx of Irish AFLW players comes on the back of an increase in Irishmen in the AFL, with a record number of 14 – headed by Geelong's Zach Tuohy (county Laois), Gold Coast's Pearce Hanley (county Mayo) and Essendon's Conor McKenna (county Tyrone) – on lists for the 2019 season.
The AFLW migration from Ireland started in earnest when GWS sprang a draft surprise in October 2017, calling out Staunton's name with what eventuated as its final pick, 45.
Kicking five goals in seven games, Staunton's exploits weren't far from the news back home, especially when she broke her nose and returned to the field against Collingwood in round three.
It gave impetus to women's Australian Rules football in Ireland, which is gaining momentum, albeit from a small participation base.
Numbers have increased from fewer than 20 female players in the whole country to more than 150 in the space of a year, with 10 different teams having competed in various competitions in 2018 (games are often played with nine players on each side).
The premiership competition now has four teams, the same size as the men's.
Mike Currane, the coach of the Irish Banshees (the women's Australian Rules team that represents the country in International Cup) and founder of AFL Ireland and AFL Women's Ireland, said Staunton's success last year had been a boon for AFLW in his country.
"We started with eight clubs, simultaneously, around Ireland and it's just taken off from there," Currane told AFL.com.au.
"Prior to Cora's debut, we had been aware of Laura Duryea playing season one in the AFLW (for Melbourne) and that generated a bit of publicity at home here as well.
"The Cora effect when she headed out to [Greater Western] Sydney was definitely a huge factor in growing awareness of the sport, as well as the structure being put in place. But the Crosscoders program has been the main accelerator in getting the number of (Irish) girls playing AFLW to five."
That Crosscoders program, instigated by Western Bulldog (and former Wimbledon Hawk in England) Lauren Spark, AFL England president Jason Hill and Jonathan Jeffries, saw international players from other sports selected for a week-long trial in Melbourne.
Bonner, Considine (who has played Aussie Rules in Ireland for West Clare Waves along with her Gaelic duties with county Clare) and McCarthy were all graduates of the program.
"The likes of ourselves here in Ireland and a lot of people in football internationally believed there was potential for girls overseas to get involved," Currane said.
"Over the course of the week, the interest of AFLW clubs was definitely tweaked, most particularly when the Crosscoders beat a combined VFLW side in a challenge match. The following morning the phone was hopping."
Being paid to play – something that isn't available in the amateur Gaelic football competitions in Ireland – as well as the ability to play in the GA championship season (which runs from May to September) are appealing factors for players wanting to try out for AFLW sides.
The extra work put in by club officials like Giants senior AFLW coach Alan McConnell, who recently tied in a trip to visit his UK-based son with home visits to recruits Bonner and Callum Brown (AFL), as well as Staunton, creates a comfortable environment for international players.
Interest has risen so much in the talent of international players, Crosscoders may hold its 2019 trial around May next year when AFLW clubs will have full rookie availability, rather than only a handful having spots as was the case in September this year.
"Participation numbers are just going to increase. If you take the Cora factor from last year and multiply it by the fact there's five Irish girls going to play in season three (in the AFLW), I think interest is going to grow," Currane said.
"Cora is the most well-known (female) Gaelic footballer, without question, over the last number of years.
"It got huge publicity for the sport and for women playing the sport and came at a really good time for us."
Irish AFLW players:
Yvonne Bonner – GWS rookie, Gaelic football for county Donegal
Ailish Considine – Adelaide rookie, Gaelic football for county Clare, camogie (female hurling), AFL Ireland for West Clare Waves
Aisling McCarthy – Western Bulldogs senior list, Gaelic football for county Tipperary
Sarah Rowe – Collingwood rookie, Gaelic football for county Mayo, has also represented the Republic of Ireland in soccer
Cora Staunton – GWS senior list, Gaelic football for county Mayo
To read the original story by Sarah Black, go to the AFL website at the following link: http://www.afl.com.au/news/2018-11-14/aflw-how-the-cora-effect-has-boosted-irish-numbers