Irish Hawk Raises Solid Point
Wednesday, November 14 2018 @ 10:21 pm ACDT
Contributed by: Wesley Hull
Views: 1,518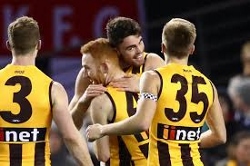 As a kid in the Aussie Rules playing states of Australia, from the first time you pick up a footy and kick it around the yard you are on the path to AFL football. From the youngest ages, Auskick programs, junior clubs, representative football, school football and later academies and combines create a path to the big time. The pathways are clear and ready.
Not so in Ireland. At least not as directly for Australian Football. The equivalent local pathways can take young Irish kids on a journey to club, county and country Gaelic football. But whilst on that journey, many kids – girls and boys – might learn of an opportunity to head to Australia and try AFL. Be the next Jim Stynes or Tadgh Kennelly. At this point. Careers do a complete right angled turn and Irish clubs face the prospect of losing their talent to another code – albeit related.
 As men and women reach the stage of heading down under, the clubs in Ireland simply rebuild by growing the next talent – and then possibly losing them also. In the vast majority of cases these clubs do all they can to help their talented players live a dream. Bu it doesn't necessarily help the clubs – even though they are given a small level of compensation from the AFL.   
Irish Hawk, Conor Nash, has raised the issue as the Irish clubs being far better compensated for grooming talent which they lose to Australian clubs. His views can be found in an article on the www.afl.com.au website, and appears here in part to provide the basis of his argument. 
IRISH Hawthorn forward Conor Nash has backed calls for Gaelic football clubs that have players poached by AFL teams to be fairly compensated.
North Melbourne's recruitment of Red Óg Murphy late last month brought the number of listed Irish players in the AFL to a record 14.  
Nash told the We Are Meath podcast in Ireland that Gaelic clubs deserved payment after developing young prospects. 
"I certainly think there is a case there for some sort of compensation. It certainly has to be the club. I wouldn't think it would be the county board or something like that," Nash said.
"If it was the club, yes, I'd be all for that. If it was the county board as such, probably not. 
"I'd love to see it go back right to the roots, because everybody knows that clubs could do with a bit of spare cash every now and then." 
However, Nash pointed out a potential complexity with such a system. 
"If you look at my situation where I (played Gaelic) football and rugby, do you compensate both of themω Do you compensate one more than the otherω" Nash said. 
Compensation does exist in small doses – linked in part to a games played formula. But many AFL clubs are getting great talent for a relative pittance. If the AFL clubs can demand massive draft selection benefits for losing players to free agency, then surely clubs that produce the likes of Nash, teammate Conor Glass, Essendon's Conor McKenna, Suns' star Pearce Hanley, Cat Zach Tuohy and Sydney Swan Colin O'Riordan deserve a little more respect (and due compensation) for providing such a talent and aiding them in getting to AFL list.  
To put things in a slightly unfair light, the Western Bulldogs lost Luke Dalhaus and were give draft pick #25 as compensation. Collingwood lost Alex Fasolo and got pick #57. Did the Irish clubs who lost players over the past 12 months or so receive anything remotely comparable for giving up potential starsω No, it certainly isn't the same thing – but it does involve clubs losing talent. 
The AFL and its 18 clubs have money. They can afford to do something more to develop the game back in Ireland. It is only a matter of enough people agreeing that they should, then put things in place. In return, the talent pool from Ireland will likely grow further. It has grown substantially over the past ten years and will grow further over the next ten – and AFL clubs are the biggest beneficiaries of that growth. 
But Conor Nash has raised a pertinent issue, and one that might be cause for a very healthy debate – both in Ireland and here in Australia.
To read Dinny Navaratnam's full story on the AFL website, go to: http://www.afl.com.au/news/2018-11-14/afl-teams-should-compensate-gaelic-clubs-says-irish-hawk