Cairns Reclaims Cardwell Cup – AFL Masters
Tuesday, November 06 2018 @ 10:59 pm ACDT
Contributed by: Wesley Hull
Views: 1,290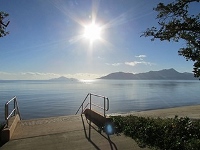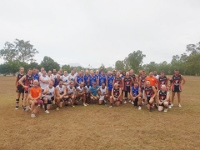 The clouds drifted in from Hinchinbrook Island. The players drifted in from Cairns, Townsville and the Whitsundays. The clouds made far less noise about it. A variety of bodies in various states of disrepair had descended like arthritic locusts on beautiful Cardwell – midway between Cairns and Townsville. The purpose – to compete for the AFL Masters Cardwell Cup for the naming rights as the best Masters' team in North Queensland.
Whilst the breeze brought with it the clouds and occasional shower, the players brought mainly beer and some ill-fitting footy shorts from bygone eras (their playing days). The converted rugby league ground was as hard as the rocks in the nearby Cardwell Range. The grass playing surface was a cross between vegetation and piano wire.
But it set the scene for one of the most enjoyable footy carnivals in this magical part of the world, attracting crowds (albeit small) which lined their campervans, trailers and Winnebagos lovingly around the boundary line.
Young kids from Innisfail, Mission Beach, Cardwell and other nearby locales turned up early for the AFL Clinic run by Nigel from the Cassowary Coast Crows (based in Mission Beach). This was followed by the now traditional clash – the Cardwell Showdown – featuring the Power and the Crows. Pyramid Power and Cassowary Coast Crows. The premiership winning Pyramid Power Under 14 girls team played a Crows girls team. They won by plenty, but the winner was the women's game as the future was on show.
Then it was time for the main events. A round-robin featuring players from Cairns, Townsville and the Whitsundays based in Airlie Beach. Townsville Sharks arrived with the cup, as most recent winners, and ran out to defend it against the Cairns Stingers. Cairns had other ideas. Their team that in recent years has featured such names as Onions, Pickles and Nuggets – making it sound more like a menu that a team – hit the field full of vengeance to get back the cup. In a perfect start they downed Townsville 37 to 17.
The next game saw the Cairns Stingers put away the Whitsunday Bald Eagles to the tune of 81 to 11 in a comprehensive display of half-paced running and slowing skills. But it was better that their opposition on the day – a shade faster, a shade stronger, a shade more talented – and the cup was heading back to Cairns again.
The final game was a dead rubber of sorts. The Whitsunday boys defeated Townsville, though the score-keepers appeared to have slinked off to the nearest watering hole for a drink, taking the scorebook with them.
At days end, weary players boarded their vehicles for the journey home – pillaging the eskys – and remembering another fun day of footy in Cardwell. Cairns Stingers are Cardwell Cup champions once more and order is restored to the world.
Meanwhile, in Townsville and Airlie Beach, plans are being hatched for retribution.
Cardwell Picture Credit: Cardwell State School