Consultation Launched on AFL England Junior Program
Wednesday, October 31 2018 @ 09:02 pm ACDT
Contributed by: Wesley Hull
Views: 1,465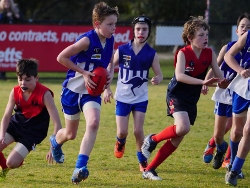 AFL England is investing in the future of the game by looking at the greater development of junior football across England. Reporting on their www.aflengland.org website, AFL England is looking at schools and existing or potential clubs to grow interest and develop talent.
AFL England is launching a consultation on a national junior program which is set to be launched in the Spring of 2019.  Under the new program, the number of junior clubs in England could grow to 12, including clubs in London, Liverpool, Reading and Bristol. The consultation aims to discover where there is the most interest in junior Australian rules football. 
The consultation form is available here [see direct link below] and we would invite people to share it with friends, families, schools and anyone who you think might be interested in getting involved in the Junior program.
 If you have any questions please don't hesitate to contact juniors@aflengland.org 
During the consultation period, people will be able to select a Junior club they are interested in receiving information about. This will help AFL England focus its efforts on launching a successful Junior program. AFL England will also be opening up applications for Junior Coordinators who, with help from AFL England, will market and operate the centres in their local area. 
Currently, the Clapham Cubs are the only junior club operating in England, and AFL England President Jason Hill says that junior growth is high on his list of priorities when it comes to growing the sport. 
"I think we definitely recognise that in order for any sport to grow in this country, it must appeal children and give them opportunities to engage and participate in that sport from a young age," said AFL England President Jason Hill. 
"We are working with a number of partners on developing this program, and this consultation will allow us to find out where to focus first, before rolling out the scheme nationwide." 
The program is modelled on the highly successful Auskick program in Australia, which attracts over 100,000 primary school aged participants annually, as well as the ECB All Stars programme which is delivered nationwide at over 2,000 centres. 
To access the link for the consultation form as mentioned above, follow the link to the original story here and click consultation form in story. http://www.aflengland.org/consultation-launched-on-afl-england-junior-program/ωfbclid=IwAR2LMQ0loALX0DbZR4VLyaO-FEt-YsIewiWIP84goHdp6MSZ4-jEa-rFly0