Danish Vikings & Irish Banshees Take Euro Honours
Sunday, October 14 2018 @ 09:19 am ACDT
Contributed by: Wesley Hull
Views: 1,565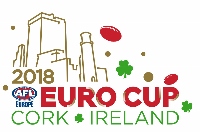 After an exciting day out in Cork, Ireland, the Euro Cup is done and dusted with the Denmark Vikings once again taking out the Men's Division whilst the Irish Banshees won the women's title. Both teams have now claimed their third titles with Denmark winning their first title since their back-to back tournaments in 2014/5. The Irish Banshees also won the women's title in 2016 in Lisbon, Portugal and in London in 2014.
The Denmark Vikings won their way through the round matches and finals to meet the Irish Warriors in the final. They defeated last year's winners, the England Dragonslayers, in the semi-final before defeating the Warriors by 14 points in the final.
The Irish Banshees and England Vixens had little trouble advancing to the women's final with big semi-final wins, but the Banshees were far too good for 2017 winners, the England Vixens, taking the final by a commanding 25 points.
Each Euro Cup throws up special and noteworthy performances by some of the games less developed teams. This year was no exception with the Tel Aviv Cheetahs, Russian Tsars and Czech Republic Dragons enjoying exciting wins. The Swedish Elks will be delighted after recording two wins for the tournament whilst the Austrian Avalanche team had an impressive tournament with two wins and a draw against the Scottish Clansmen.
In the Men's draw, the French Coqs won the Euro Bowl downing the Netherlands. The Welsh Red Dragons defeated the Sweden Elks to win the Euro Plate. In the women's draw, the German Eagles won the Bowl defeating the Scottish Sirens whilst the Denmark Valkyries defeated the Welsh Wyverns for the Plate.
Results (by round):
Round 1
Swedish Ravens 3 0 18 d German Eagles 1 1 7 (W)
Danish Vikings 4 10 34 d Welsh Red Dragons 1 0 6
England Vixens 6 7 43 d Danish Valkyries 0 1 1 (W)
German Eagles 7 8 50 d Swiss Mountain Cocks 0 1 1
Round 2
Swedish Elks 2 8 20 d Austrian Avalanche 1 1 7
Scottish Sirens 2 8 20 d French Gauloises 1 4 10 (W)
Irish Banshees 11 5 71 d Croatian Queens 0 1 1 (W)
Irish Warriors 6 5 41 d Scottish Clansmen 0 2 2
Round 3
England Vixens 5 10 40 d Welsh Wyverns 0 0 00 (W)
French Coqs 4 14 38 d Russian Tsars 0 1 1
Croatian Knights 9 5 59 d Tel Aviv Cheetahs 0 2 2
German Eagles 2 0 12 d Danish Valkyries 1 1 7 (W)
England Dragonslayers 11 3 69 d Czech Republic Dragons 0 0 00
Round 4
Welsh Red Dragons 7 6 48 d Swiss Mountain Cocks 0 0 00
Danish Vikings 3 3 21 d German Eagles 2 3 15
Round 5
French Coqs 4 7 31 d Czech Republic Dragons 0 1 1
Swedish Ravens 9 6 60 d Welsh Wyverns 0 0 00 (W)
England Dragonslayers 8 6 54 d Russian Tsars 0 0 00
England Vixens 6 5 41 d German Eagles 0 0 00 (W)
Round 6
Netherlands Flying Dutchmen 3 5 23 d Tel Aviv Cheetahs 1 2 8
Austrian Avalanche 2 4 16 d Scottish Clansmen 1 10 16
Irish Warriors 7 8 50 d Swedish Elks 0 2 2
Croatian Queens 3 8 26 d French Gauloises 1 2 8 (W)
Irish Banshees 9 5 59 d Scottish Sirens 1 0 6 (W)
Round 7
Swedish Ravens 3 4 22 d Danish Valkyries 1 3 9 (W)
German Eagles 5 3 33 d Welsh Wyverns 0 3 3
Danish Vikings 11 6 72 d Swiss Mountain Cocks 0 0 00
Round 8
Czech Republic Dragons 3 3 21 d Russian Tsars 1 3 9
Croatian Knights 10 10 70 d Netherlands Flying Dutchmen 1 2 8
England Dragonslayers 3 3 21 d French Coqs 2 4 16
Irish Warriors 6 7 43 d Austrian Avalanche 0 0 00
German Eagles 5 6 36 d Welsh Red Dragons 1 2 8
Round 9
Croatian Queens 4 4 28 d Scottish Sirens 3 3 21 (W)
Irish Banshees 12 12 84 d French Gauloises 0 1 1 (W)
England Vixens 5 4 34 d Swedish Ravens 1 2 8 (W)
Scottish Clansmen 2 6 18 d Swedish Elks 2 4 16
Danish Valkyries 6 5 41 d Welsh Wyverns 1 0 6
Men's Plate Semi-Finals
Swedish Ravens 5 6 36 d Czech Republic Dragons 0 0 00
Welsh Red Dragons 4 6 30 d Tel Aviv Cheetahs 1 6 12
Men's 13th Place Playoff
Russian Tsars 3 6 24 d Swiss Mountain Cocks 1 4 10
Women's Plate
Danish Valkyries 5 2 32 d French Gauloises 1 3 9
French Gauloises 5 3 33 d Welsh Wyverns 0 0 00
Men's Quarter Finals
Danish Vikings 6 6 42 d Netherlands Flying Dutchmen 0 0
England Dragonslayers 6 7 43 d Scottish Clansmen 2 3 15
Irish Warriors 4 5 29 d French Coqs 2 1 13
Croatian Knights 3 5 23 d German Eagles 2 7 19
Men's Plate Final
Welsh Red Dragons 5 4 34 d Swedish Elks 2 5 17
Men's 11th Place Playoff
Tel Aviv Cheetahs 2 4 16 d Czech Republic Dragons 1 4 10
Men's 13th Place Playoff
Austrian Avalanche 4 7 31 d Swiss Mountain Cocks 3 3 21
Women's Bowl Final
German Eagles 3 4 22 d Scottish Sirens 1 4 10
Women's Plate
Danish Valkyries 3 7 25 d Welsh Wyverns 0 0 00
Women's Semi Finals
England Vixens 8 14 62 d Croatian Queens 0 0 00
Irish Banshees 10 4 64 d Swedish Ravens 0 1 1
Men's Bowl Semi-Finals
French Coqs 6 6 42 d German Eagles 0 4 4
Netherlands Flying Dutchmen 3 3 21 d Scottish Clansmen 1 4 10
Men's Semi-Finals
Irish Warriors 5 6 36 d Croatian Knights 0 3 3
Danish Vikings 6 2 38 d England Dragonslayers 1 1 7
Men's 13th Place Playoff
Austrian Avalanche 2 5 17 d Russian Tsars 1 3 9
Men's Bowl Final
French Coqs 44 d Netherlands Flying Dutchmen 1
Grand Finals
Danish Vikings 4 4 28 d Irish Warriors 2 2 14 (Men's)
Irish Banshees 5 3 33 d England Vixens 1 2 8 (Women's)