Odense Lions – Kings Of The Pride
Wednesday, October 10 2018 @ 08:49 am ACDT
Contributed by: Wesley Hull
Views: 876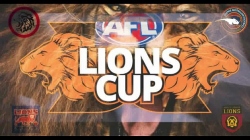 Lions from across Europe descended on Denmark last weekend with the second instalment of the Lions Cup. The tournament was created and commenced in Lyon, France, in 2017, with the tournament decided by for and against results. The North London Lions were deemed inaugural winners. Last weekend it was the Odense Lions from Denmark taking the title.
The tournament saw the host team, Odense Lions, the North London Lions and the ALFA Lions from France competing in a three-way round-robin. Odense won both of its matches on the day to take the cup ahead of the North London Lions in second place and the ALFA Lions third.
Odense downed the ALFA Lions by 21 points, winning 39 to 18. The North London Lions also defeated the ALFA Lions by three goals, 55 to 37. In the other game, the Odense Lions defeated the North London Lions (scores unavailable at time of writing).
The success of the second running of this event will be a great incentive for more Lions to join in the fun in the future. Last year saw the Rheinland Lions from Germany involved and they may also return for next year. The Winterthur Lions from Switzerland have come to life since last year's event and could be a new addition for 2019. Ireland's Leeside Lions may also consider the event as a fitting way to finish their season. The scope for Lions to grow in number is strong.
But for the time being, the Odense Lions are the "Lion Kings" for 2018. They have earned the right to roar loudly across Europe as the mightiest of Lions.
"Lions, Lions Everywhere - to Odense one and all
To have a kick and have some fun and chase that ol' football."
"Go Lions, [insert your Lions here] Mighty Lions
We'll kick the winning score,
You'll hear the mighty roar."