2018 Austrian Challenge – Historic Game In Vienna
Tuesday, October 09 2018 @ 10:00 pm ACDT
Contributed by: Wesley Hull
Views: 1,188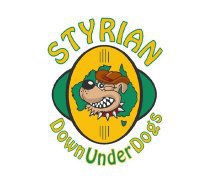 Last Saturday, Austria came alive to the sounds of footy with the 2018 Austrian Challenge at Rugby Donau Park in Vienna. The Vienna Galahs hosted the Styrian DownUnderdogs. The following report from Austria, provided by the DownUnderdogs, looks at the game.
Last Saturday saw the first game between two clubs from Austria since 2013. The Vienna Galahs, a phoenix club from the old Vienna Kangaroos, invited the Dogs from Graz to fight for the 2018 Austrian Challenge trophy. On a early sunny afternoon, the two teams had a warm-up session together and kicked off almost on time.
The Galahs, consisting of some experienced players from the old days of the Kangaroos plus many guys playing there first proper game footy, started with some really good kicks plus marks and were 4 goals up in the first minutes of the game.
The Dogs, already focused on the participation as the Austrian Avalanche in this week's AFL EuroCup, ultimately missed to keep their minds on the game at the beginning and struggled with the fierce effort of the Galahs. After finally having their heads clear, the game started to be hard contested with some really good actions throughout the first half, seeing the Dogs in front by 5 points going into the halftime break.
The second half saw a decent game by both teams with the Dogs having the better outcome at the end, gaining many scores due to good combinations along the third and fourth quarter.
Results:
Vienna Galahs 7 0 42 lost to Styrian DownUnderDogs 10 12 72
Q1: Galahs 4 0 24 – Dogs 2 2 14
Q2: Galahs 4 0 24 – Dogs 4 5 29
Q3: Galahs 5 0 30 – Dogs 7 7 49
Q4: Galahs 7 0 42 – Dogs 10 12 72
The Dogs highly appreciated the invitation of their friends from Vienna and are really looking forward to more games, hoping to form a proper league in 2019 in order to keep up with the development of footy in Austria.