St. Petersburg Cats Win Championship Title
Sunday, October 07 2018 @ 07:57 pm ACDT
Contributed by: Wesley Hull
Views: 850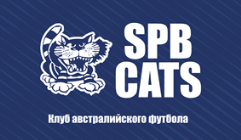 The Russian domestic season has been completed with the two St. Petersburg teams – the Cats and Tigers – doing battle to decide the 2018 title. The following media release from the St. Petersburg Cats details the event.
On a cloudy September 23nd, St. Petersburg footy fans gathered onto SKA stadium to see the Grand Final of St. Petersburg 2018 Cup. There were two opponents – the St. Petersburg Cats and Northern Tigers – and both had won 2 games during 2018 season, so a deciding battle had to be played.
During the first quarter, Cats started only with 8 players on the pitch due to the late arrival one of their teammates. However, even with this handicap, the Tigers were struggling to stop their opponent's offense, resulting in a 21-point lead to the Cats' by the first break. After that, the white-and-blue team continued to develop their advantage, scoring one goal after another. Tigers tried to make their comeback in the last quarter, but it was too late for them. The final score was 91 to 32, with St. Petersburg Cats being declared the champions of 2018 Saint Petersburg Cup.
This game was the last one before 2018 Euro Cup, which will take place in Cork, Ireland on October 13th. Team Russia mostly consists of St. Petersburg Cats players, so they are ready to show all they have got at the main European event of this year.
Quarter-Time: Cats 31 Tigers 10
Half Time: Cats 49 Tigers 17
Three-Quarter Time: Cats 77 Tigers 19
Final Score: St. Petersburg Cats 91 d Northern Tigers 32