Blue becomes local hero in Irish Gaelic game
Thursday, September 27 2018 @ 06:31 am ACST
Contributed by: Wesley Hull
Views: 1,173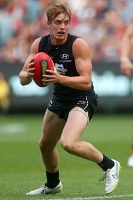 Riley Beveridge from the www.afl.com.au website filed the following story looking at the success of Carlton's Irish import, Ciaran Byrne. Usually stories about Irish footballers trace their journey from Ireland to the AFL. However, Byrne has reversed the trend, returning to Ireland to play in a local match.
CARLTON defender Ciaran Byrne has returned to Ireland and become a hero in his local county, starring in a surprise appearance for his boyhood Gaelic side over the weekend.
Byrne suited up alongside his older brother Declan for his home club St Mochta, helping it defeat Mattock Rangers to reach the Louth Village team's Intermediate Championship final.
The 23-year-old came on as a second-half substitute, making his first Gaelic appearance since joining Carlton as a Category B rookie from County Louth at the end of 2013.
 Byrne's return might have raised eyebrows in Ireland, but not at Ikon Park.
It's believed Byrne asked Carlton about the prospect of playing in the match prior to heading home for his off-season break, with the Blues comfortable with the young defender taking part in his side's semi-final and subsequently giving him their tick of approval.
Byrne remains a highly rated prospect at Carlton, though his career has been limited to just 22 games in five years due to a series of setbacks relating to knee and hamstring injuries.
He played seven games in 2018, finishing the year strongly with five consecutive matches.
The Intermediate Championship is effectively a local level competition in Louth, the county where Byrne hails from, with his St Mochta set to now play St Fenchins in the final.
The original story can be found at: http://www.afl.com.au/news/2018-09-26/blue-byrne-becomes-local-hero-in-irish-gaelic-game
Picture Credit: Carlton Football Club