Tigers Take Tyne Cup
Monday, September 17 2018 @ 03:11 pm ACST
Contributed by: Wesley Hull
Views: 981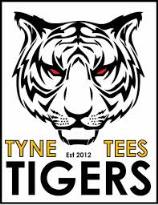 The Newcastle-based Tyne Tees Tigers gained some solace after missing out on the SARFL (AFL Scotland) finals by taking out the 2018 Tyne Cup. On a predominantly fine day, but for one errant shower, the Tigers downed their Scottish stablemates, the West Lothian Eagles. In the women's game, the Nottingham Scorpions defeated the Scottish Sirens.
Phil Martin from the Tyne Tees Tigers noted that, "in the ladies game the Nottingham Scorpions beat the Scottish Sirens 19.13.137 to 1.1.7. In the men's game the home team, Tyne Tees Tigers, beat the West Lothian Eagles 27.19.181 to 8.14.62. Best on ground for the Tigers was Anthony Roy Brannigan with eight goals from the centre. Debutant, Cameron Armstrong, gave a strong showing at full forward with two goals and long term half back Matty O'Brien [chimed in] with his first goal for the club."
The tournament has a distinctly Scottish flavour to it, featuring two of this year's SARFL teams as well as a representative team. This is a departure from previous seasons where more AFLCNE teams were involved prior to the Tigers' decision to switch leagues at the end of last year.
It would be hoped that the Tyne Cup will grow to greater numbers again in coming seasons as more AFL Scotland teams get on board and factor the event into their own calendars, whilst other AFLCNE clubs may find the trip to Newcastle worthwhile as an end of season addition.
All teams and leagues will now turn their attention to the upcoming Euro Cup to be held in Cork, Ireland, on the 13th October.