Hamburg Dockers German Champions
Sunday, September 16 2018 @ 10:04 pm ACST
Contributed by: Wesley Hull
Views: 2,734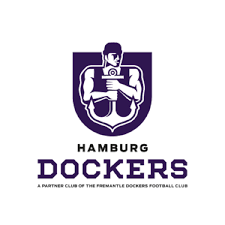 The AFLG Grand Final on the weekend has seen the Hamburg Dockers claim their third premiership, downing last year's winners, the Berlin Crocodiles. In a willing contest, the Dockers pulled away after a tight first half to take the premiership by 55 points in Dresden.
The opening quarter saw both teams take the game on, full of desire and intensity. At the first break, the Berlin Crocodiles held a narrow five-point lead, 3 1 19 to 2 2 14. By half time, the Dockers had regained the lead, but only just. Just three points separated the teams with the Dockers a nose ahead, 5 5 35 to 5 2 32.
The "premiership quarter" lived up to its name as the Dockers made their move. A five goal to one third quarter saw the Dockers take a stranglehold on the game as they flexed their muscle and shut down the gallant Crocs. Three-Quarter Time saw the Dockers lead 10 7 67 to 6 2 38.
Any chance of a Croc fightback was snuffed out early in the final quarter as the Dockers could smell blood. They kept the Crocs scoreless for the quarter whilst slamming home four more goals on their way to a deserved and ultimately comprehensive premiership victory.
Final Score: Hamburg Dockers 14 9 93 d Berlin Crocodiles 6 2 38
It marks a fitting end to a season that was heavily dominated by the Hamburg Dockers. Now they can party hard before preparing for 2019, as all other clubs are already doing.
The day in Dresden saw some entertaining curtain-raiser matches prior to the main event. In the AFLG Cup, the Frankfurt Redbacks claimed some silverware for the season, downing the Wurttemberg Giants 71 to 41. Players from the host team, the Dresden Wolves, helped make up the numbers for both teams on the day.
The first match of the day saw the AFLG Women's team go down narrowly to the visiting Denmark Valkeries team. After a tight contest, the Valkeries just pipped the AFLG team by three points, winning 71 to 68.
Attention will now turn to the off-season tournaments with next month's Euro Cup in Cork, and later the Champions League in Amsterdam where the Dockers will represent Germany.