Australian Football - The Most Vital Game To Enter Egypt
Monday, September 03 2018 @ 09:29 pm ACST
Contributed by: Wesley Hull
Views: 2,136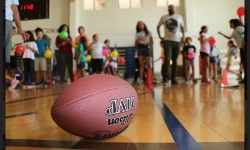 The following article, is translated as closely as possible from the original story in Arabic for the www.filgoal.com website – an Egyptian sports website. Certainly, the appearance of this story in the Egyptian sports reporting market indicates a growing interest in the game, built almost entirely on the back of an Auskick program run by Professor Mohammed Hashem at the American University Cairo.
Can you imagine a game that holds the mix of football and hand [handball] togetherω Australian football, that you will probably [be hearing] about for the first time, will give you that mix. 
Australian football is a wide-ranging game in its country [played Australia-wide], with the highest scoring rate in the country, and the Aussie's [game is] the fourth-highest in all sports after the NFL, Bundesliga and English Premier League.
 But, although it was an old game started by Australians in the mid-19th century, the [game in Australia] is the only professional tournament [for] the game but has recently begun to expand. 
Recently, the foundation stone of the game was laid in Egypt, through Muhammad Hashim Al-Masri, who also holds Australian citizenship. He is a Doctor of Media and Film at the American University. 
He is also the owner of the Auskick Academy, which is the first of its kind in Egypt after obtaining the license [from] the Australian Federation [AFL governing body]. 
"We only started with children until the age of 12," Hashim told FilGoal.com 
"Too much for adults and the game in general need this kind of activity." 
"The fun of Australian football is that the matches are a very demanding game."
"Even when they follow regular football, they like to enjoy the goals," he said. "So let's see a game that might have a goal every minute, so I trust the speed of the game [to be an attractive selling point to new players]." 
Egyptians in the Aussie League 
[Egyptian players playing the Aussie game] have never been seen before and only one Egyptian player, Ahmed Saad, played for St Kilda from 2012 to 2013. [Footnote: current Richmond Tigers rookie, Mabior Chol was born in Sudan, but lived in Egypt after fleeing the country before moving to Australia - Editor.] 
During that period Saad participated in 33 games [for St Kilda] and scored 48 goals with the team. 
Egyptian Market 
"Initially, the Australian Football [League] (AFL) was not enthusiastic about the expansion of the game in the Egyptian market. In the end, they welcomed it and the Australian Embassy in Egypt offered help." 
"I think the game will develop significantly in Egypt and within two years it will be very popular." 
The original article (in Arabic) can be viewed at: https://www.filgoal.com/articles/342879