Bogota Bulldogs Retain South American Title
Friday, August 31 2018 @ 02:40 pm ACST
Contributed by: Wesley Hull
Views: 2,009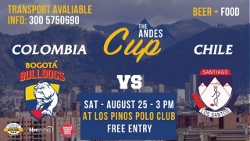 The 2018 Andes Cup has been won again by the Bogota Bulldogs from Colombia. It makes it three wins from three tournaments against the Santiago Saints representing Chile. The two nations are leading the way in growing Australian Football on the South American continent – more than a few nearby nations will be watching the result.
Their battle on the weekend saw one club (Saints) on the back of a long history playing the game in Santiago without regular competition up against the club (Bulldogs) that has seen the creation of the AFL Colombia competition this year. Their players had come off an entire local season and a couple of games from a new one. On face value, the Bulldogs probably had an advantage in sheer match play and conditioning.
But try telling that to the Santiago Saints. They came out breathing fire and led the Dogs a merry dance early. Having gone down in the past two Andes Cups, the Saints were determined to rewrite history and claim their first international title. However, the Bulldogs settled and regained a lead they would not relinquish, running out winners by just 19 points in another closely fought affair.
According to the Bogota Bulldogs Facebook page, "what an incredible game on Saturday! After the Saints gave us an incredible scare in the first quarter, we locked in and dominated the rest of the game. The boys put on a performance to be proud of taking out the match."
The result was fitting, and did reflect the greater frequency of playing matches in Colombia, but it spoke volumes about just how competitive the Santiago Saints are. They have a never-say-die attitude that worried the Bulldogs, certainly early but right up until the final siren.
Vice-President of the Bogota Bulldogs, Alex Raf, summed up the feelings of the club after the game. 'When we moved back to Colombia I never imagined I'd get to join a team that made it Latín American AFL champs back to back. Or, a club that's growing the game by starting LatAm's first league and an Auskick programme for kids living in state care. Hats off to the leaders of the Doggies."
The final scores saw the Bogota Bulldogs (Colombia) 10 6 66 defeat the gallant Santiago Saints (Chile) 6 11 47. A reflection of how tight the game was shown in the scoring shots with the Saints actually recording more shots on goal. However, the Bulldogs were more efficient in front of goal where it mattered most.
It does set up a fascinating next instalment in 2019 where the Saints will know they have the ability to match the Bulldogs in general play. A little more polish and the Andes Cup might be headed south to Santiago. But for now, congratulations must go to the Bogota Bulldogs – 2018 Andes Cup champions.