Belfast Redbacks The Toast Of Ireland
Sunday, August 26 2018 @ 09:41 pm ACST
Contributed by: Wesley Hull
Views: 1,302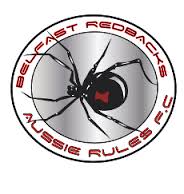 After a dominant year, the Belfast Redbacks finished the job when they defeated the Galway Magpies to win the 2018 AFL Ireland premiership. Having gone through the home and away season undefeated, the Redbacks were expected by most to win the title. But the biggest job of all is producing when it matters on grand final day, and the Redbacks did that.
However, the Magpies made sure the Redbacks earned the premiership. The final margin was 39 points, set up by a brilliant first half by the Belfast team. At the main break, the Redbacks lead by 38 points at the Mallusk Paying Fields in Belfast.
According to AFL Ireland, "[The first half was a] tough physical battle with both teams giving their all across the ground. [There were] nine scores to six but the Redbacks [were] more clinical with their shooting so far and take a lead into the main change over. Very wet conditions to start but the rain has now stopped."
At half-time the Belfast Redbacks 7 2 44 led the Galway Magpies 0 6 6.
The second half was, if anything, even tougher. The Magpies came back hard in the third term with both teams kicking two goals. Whilst the task was always going to be too big to catch the Redbacks, the Galway team didn't see it that way – and certainly didn't play that way.
At the final change, the Redbacks 9 7 61 led the Magpies 2 8 20
The last quarter remained a tight contest. The Magpies still believed that they had their own story to tell and won the quarter narrowly. It was a grand fightback, proving that they deserved to be in the grand final and certainly would have had the Redbacks grateful for their own big first half. In the end it was that first half dominance which set up the premiership.
Final scores: Belfast Redbacks 9 14 68 d Galway Magpies 3 10 28
It was the third premiership for the Belfast Redbacks, and arguably their finest as it completed a perfect season. The club will party hard before a well-earned break ahead of planning for a follow-up in 2019.
AFL Ireland and the clubs will now turn their attention to the Euro Cup in Cork.