Winterthur Lions Pioneering New Footy Era In Switzerland
Friday, August 24 2018 @ 08:01 am ACST
Contributed by: Wesley Hull
Views: 1,897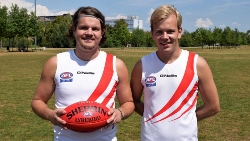 The following article was written by Christian Saggese for the Zuriost website in Switzerland. It looks at the efforts of the Winterthur Lions club to grow the game in the nation and potentially develop beyond the levels of lone Swiss clubs. This article is an imperfect translation from the original story written in German. To view the original article, go to: https://zueriost.ch/sport/2018-08-21/wir-wollen-in-der-schweiz-eine-liga-gruenden 
Australian football player from Winterthur
"We want to start a league in Switzerland" 
Does Switzerland soon have its own Australian Football Leagueω Winterthur are well on their way to putting this dream into reality.
Switzerland is soon to be richer by one sport. That is the wish of Stefan Burgener and Till Roost. The two Winterthurs founded the first Australian Football Club in Switzerland a few months ago under the name "Winterthur Lions".
 "Australian football is extremely popular in Australia", says Burgener, who presides over the club and lived there [Australia] until he was 14 years old. "The final game [AFL Grand Final] entices millions of people in front of the TV and hundreds of thousands of fans every year, just like in the USA with the Super Bowl." 
"So it is all the more regrettable that this popular sport [in Australia] in Switzerland still leads a niche existence. We want to change that. We want to make Australian Football better known, gain new members and build up our own league." [Such is] the ambitious goal of the Winterthurs. 
Not To Be Confused With American Football
Stefan Burgener makes it clear: "Under no circumstances should Australian football be confused with rugby or American football, even though the name and the oval ball may trigger associations." In fact, Australian Football has its origins in cricket. "It was 1858 when, in Melbourne, it was considered [a means] to keep the cricketers fit in the winter, out of season. That's how Australian Football was born."
Australians Are Thankful
The Winterthurs are already very active with their club. They took part in the European Championship 2017 in Bordeaux as Swiss Nati. "We only took the last place, but gained a lot of experience." Recently they organized the first Australian Football match in Switzerland at Eulachpark. "Our opponents, the Swiss All Stars, are made up of individual players from all over Switzerland. Fans from Basel, for example, came here for the event. There were also Australians living in Switzerland, who appreciated that the Winterthurs were so committed to their popular sport. In addition to Basel, we also know some players from Geneva. Now we are working on founding new teams there. The potential for a separate league is there,"Burgener is convinced.
The Most Important Rules
The main goal in Australian football is to score goals. There are four vertical bars at the end of the playing field symbolizing the goals. The ball can either be kicked or shot with a fist [handpass]. Even the opponent tackle is allowed. "As a full-contact sport, there may of course be some bruising. But ultimately, this is about tactical moves and not about the use of force" says Burgener. "That's why you do not have to be a muscle pack for this sport. [Additionally] Australian football is also very actively played by women."
There Is A Lack Of Playing Surfaces
What the club in Winterthur still lacks is its own playing field. A request to the city had been rejected. "There is not enough free space for it," was Burgener's explanation. Although he understands that, he does not think about giving up: "For the Australian Football, which is widely played in Europe, [there] is enough space in the size of a football [soccer] field on which we can install the four poles on each side."
Until then they train in the public Eulachpark, directly at the playground. Every Tuesday around ten people meet at 6.30 pm for training. "If you are interested in this fast sport, you are welcome to come to our training at any time to try it out."