Next Stop, Finals – AFLG (Germany)
Tuesday, August 14 2018 @ 08:15 pm ACST
Contributed by: Wesley Hull
Views: 2,226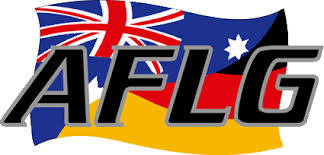 As the home and away season in Germany came to a close on the weekend, the top three teams – Hamburg Dockers, Munich Kangaroos and Berlin Crocodiles – used their respective games to prepare for what lies ahead as well as proving to all and sundry that they have the talent required to go all the way in 2018.
The Dockers and Kangaroos, the two best performed teams across the season, finished with big wins in excess of 100 points. The Berlin Croodiles also won, but were given a torrid time by the Dresden Wolves.
The Hamburg Dockers hosted the Rheinland Lions and turned on a superb defensive performance. Whilst they were able to score at will across the afternoon, their efforts in keeping the fourth-placed Lions to just two behinds for the day should be a warning to all other finalists – to beat us you will have to outscore us, and good luck with that. The Dockers took command early and kept their foot on the Lion throats for a 113-point win.
The Munich Kangaroos also enjoyed a huge win in Esslingen against the Württemberg Giants. Whilst it was a Giants home game, the Kangaroos dominated the match. Their massive 137-point win was a handy pre-finals hit-out to have the team cherry ripe for the next couple of matches. The percentage boost was largely irrelevant as they finished on nine wins for the season – the same as the Dockers – but they were too far behind on for and against to challenge for the minor premiership.
In Dresden, the home team thrilled their local supporters with a six goal to three opening term to lead the Berlin Crocodiles. The second quarter was more even, but the Wolves went to the main break with well-deserved and handy 21-point lead. A likely half-time spray saw the Crocs come out and dominate the second half with twelve goals to two, but the Wolves were still in the game at the final break, trailing by just eight points. However, a six goal to one final term saw the Berlin crew run away to a 45-point victory.
The round set up the finals makeup. On 25th August, the semi-finals will be played in Cologne. The Dockers will again meet the Lions in the first semi-final, whilst the Crocodiles will take on the Kangaroos in the second semi-final. The two winning teams will then meet in the Grand-Final in Dresden on 15th September.
Whilst nothing in football is ever guaranteed, the Hamburg Dockers will be raging hot favourites to again defeat the Rheinland Lions, especially in light of the weekend's results. Whilst the Berlin Crocodiles have played well across the season, they face a mighty challenge to match the Munich Kangaroos.
Final Scores:
Hamburg Dockers 16 19 115 d Rheinland Lions 0 2 2
Munich Kangaroos 29 1 189 d Württemberg Giants 8 4 52
Berlin Crocodiles 17 22 124 d Dresden Wolves 11 13 79