Aoife O'Gorman - From County Waterford to the Port Melbourne Borough
Tuesday, August 07 2018 @ 02:25 pm ACST
Contributed by: Tash Gunawardana
Views: 1,466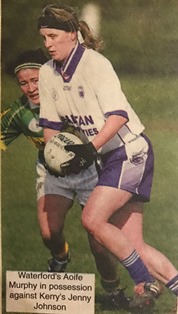 Irishwoman Aoife O'Gorman (previously known as Aoife Murphy) played Gaelic Football (GAA) and Hurling through school, university and beyond.
She played GAA against AFLW GWS Giants star Cora Staunton in the late 1990s back in Ireland in a number of high-profile matches for their counties.
"We won some big games and lost some; it's a bit mad to see her playing at the top level out here in footy", O'Gorman said of her time with County Waterford.
She believes GAA and women's Aussie Rules footy share some comparisons but differences too. "Simply put footy is physically ferocious, far beyond GAA – it requires fierce physical commitment from everyone in every game in order to be competitive," she said.
Image (right)Source: Sportsfile
Otherwise there is a large similarity in skills, scoring etc. – both games will reward athletic and skillful players," she said. "I enjoy the award athletic and skilful players I enjoy the award and advantage of the mark in footy. I do miss scoring goals past goalkeepers though".
She now calls Melbourne home and has only recently started playing Australian Rules Football for the Port Melbourne Borough women's team in it's inaugural year. The team is in Division 1 of the South Eastern Women's Football League. She has been named in the best players in four of the eight games she has played in 2018 so far.
 "It's been short and sweet – this is my first season and experience. I love watching and attending footy – it's a great spectator sport. I wish I started playing a few years ago when I first came here in 2009", O'Gorman said.
Before playing women's footy in Melbourne, O'Gorman played women's soccer with South Yarra. It was O'Gorman's husband who encouraged her to give footy a go.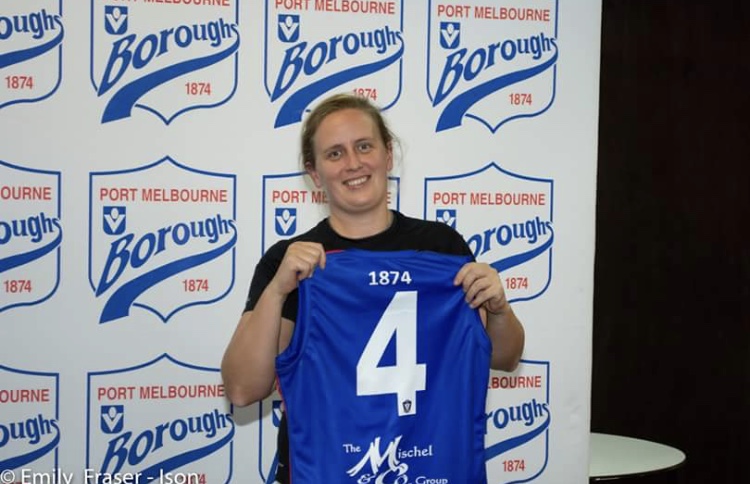 "My husband always encouraged me to get out and play footy, and with the Port Melbourne women's team being established this year it was beyond time to go and have a crack", she said.
O'Gorman has learnt a lot of valuable knowledge and skills about our great game since becoming part of the Port Melbourne football club.
"All the Port Melbourne footy club crew – players and coaches, it'd be unfair to single anyone out", O'Gorman said. "However, I'm still looking forward to the person who can successfully teach me the running bounce".
Image (left) Source: Emily Fraser - Ison Photography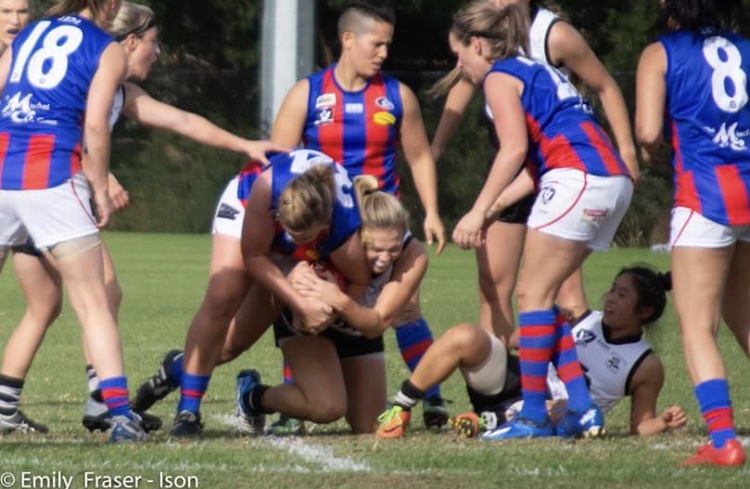 O'Gorman fell in love with the footy a few years ago, as a spectator and a player.
"Playing footy is a great physical and mental test", she said. "I've lived in Port for 9 years, met and become friends with a lot of locals, played with a variety of other Port clubs (Sharks women's soccer, Mariners women's baseball teams) and been to numerous VFL matches at North Port over the years," O'Gorman said.
The three aspects she enjoys most about footy is the competitiveness, learning constantly about the skills of the game and playing with a great bunch of teammates at Port Melbourne.
  Image (right and below) Source: Emily Fraser - Ison Photography
"So I'm extremely proud to represent the 'Boro and have some idea of the history of the club and the important place it holds in the locality", she said.
O'Gorman would be eligible to play Australian football at the 2020 International Cup and says she would be interested in representing Ireland if it's an option and also returning to Ireland to take part in the game there. At the moment she visits Ireland for short family holidays but to not play any footy or GAA.