Frankfurt Redbacks Finish Season On A High
Monday, August 06 2018 @ 10:06 pm ACST
Contributed by: Wesley Hull
Views: 1,273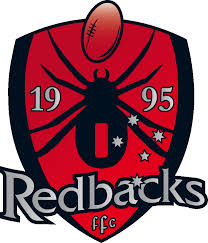 They won't be playing finals footy in 2018, but the Frankfurt Redbacks have ensured that they secured fifth spot on the premiership ladder with a resounding win against the Württemberg Giants. In the only match for Round 9, the Redbacks gave their home fans the ideal finish to their season.
After crashing out of the starting barriers at breakneck speed with a seven goal to nil opening quarter, the Redbacks simply kept the momentum and pressure going across all four quarters to run out victors by 141 points. With Jay Calder kicking six goal for the Redbacks, and Jonas Petrenz a handy five goals, the Giants were never allowed to build any momentum to get back into the game.
The Redbacks will finish with four wins for the season along with the Rheinland Lions, but with a very poor percentage. The Lions would need to lose their final match by an earth-shattering margin against the rampant Dockers in Hamburg to be overtaken by the Redbacks. Whilst not impossible – the Dockers have been merciless this season – it is unlikely.
It leaves an exciting Round 10 to be played next weekend before moving into the AFLG finals series.
A mentioned, the Hamburg Dockers will host the Rheinland Lions. The Lions won't give up, but the Dockers are intent on showing everyone in the league who is boss and should win comfortably. In other matches, the Dresden Wolves will host the Berlin Crocodiles. Both teams need a satisfying end to the home and away season for different reasons, but it is hard to see the Crocs dropping this one on the eve of finals. The Munich Kangaroos will travel to Esslingen to meet the Württemberg Giants.
Final Scores:
Frankfurt Redbacks 23 23 161 defeated Württemberg Giants 3 2 20
The semi-finals will be played in Cologne on August 25th before the winning semi-finalists meet in Dresden on September 15th in the Grand Final.