Pirates Fall Short Of Top Spot
Tuesday, July 31 2018 @ 08:53 pm ACST
Contributed by: Wesley Hull
Views: 941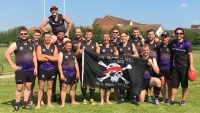 The Portsmouth Pirates came agonisingly close to finishing the SEAFL season on top of the ladder. Their match against the Sussex Swans saw them claim enough points to draw level with the Southampton Titans on wins but with a lesser percentage. When combined with the SEWARFL results in Bristol earlier in the season, the Titans had a draw to keep them ahead of the Pirates.
That leaves the Titans on top with 22 points, followed closely by the Pirates on 21 points. The following report from the SEAFL details the weekend matches.
"Due to a forfeit from Southampton Titans on Saturday (who must have done the math on the ladder!), that left the Sussex Swans to face the Portsmouth Pirates in an extended game of footy in the Brighton sunshine - final result was 8 10 58 to 5 7 37 to the Pirates."
"In true SEAFL fashion, all players got stuck into a last game, old versus young. With a youthful Pirates side coming up the ranks this year, the age cut off was at 27 - much lower than it's been in previous years, even with a few Swans knocking on fifty! We were delighted to have a handful of Swans women get involved in the friendly game too. A wonderful end to another wonderful season."
"Finally, the winners and losers of SEAFL and WARFL will face off for one last game on the 11th August in Southampton."
Those matches will see the first places teams from the two competitions play off against each other, the second placed teams doing the same and the third ranked teams.
SEWARFL Grand Final Draw – Southampton 2018
1st Place – Southampton Titans v Bristol Dockers
2nd Place – Portsmouth Pirates v Cardiff Panthers
3rd Place – Sussex Swans v Chippenham Redbacks