Redbacks Undefeated In AFL Ireland Season
Monday, July 30 2018 @ 06:50 am ACST
Contributed by: Wesley Hull
Views: 966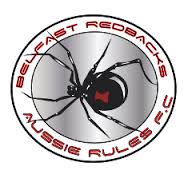 On the back of an undefeated home and away season, the Belfast Redbacks are now raging hot favourites to win the 2018 AFL Ireland Premiership. After winning both of their games on the weekend in Dublin, the Redbacks now go straight to the grand final and will watch and wait to see which team they will met.
It was a big day also for the Galway Magpies. Their day saw a win and a loss but it was enough to ensure that they claimed second spot on the ladder. On semi-final day they will play the winner of the Leeside Lions versus South Dublin Swans clash to fight for their right to meet the Redbacks on grand-final day.
After months of lovely footy weather, the weekend's games were played in torrential rain. It added a new element to the contests as teams had to reacquaint themselves with slippery surfaces and a ball that was suddenly like a bar of soap. Certainly, a handy set of skills to have in the event that the finals are playing in wet conditions.
The Dublin round, hosted by the South Dublin Swans, brought to an end a fascinating home and away season. Going into the 2018 competition, most eyes were on the Leeside Lions after back-to-back flags to see if the cold create a new dynasty. As thing turned out, a new force in the Redbacks as emerged with a powerful season, the Magpies have improved dramatically and the Lions and Swans have both dropped a little after having contested last year's decider.
Now it is time to bring on the finals. The semi-finals will be held in Dublin on 11th August whilst the grand-final will be played in Belfast on 25th August.
Final Scores:
Leeside Lions 11 6 72 d South Dublin Swans 2 1 13
Galway Magpies 20 8 128 d South Dublin Swans 3 0 18
Belfast Redbacks 6 14 50 d Leeside Lions 2 2 14
Belfast Redbacks 8 8 64 d Galway Magpies 3 4 22