And Now, Without Further Ado…The Finals.
Sunday, July 22 2018 @ 09:28 pm ACST
Contributed by: Wesley Hull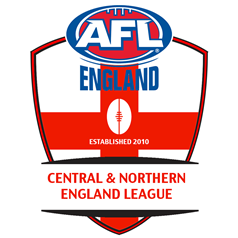 With the AFLCNE home and away season wrapped up focus now turns towards the finals series commencing next weekend in Manchester. With the final two rounds coming to a tame close, the Manchester Mozzies have again taken the minor premiership, followed by the Nottingham Scorpions, Wolverhampton Wolverines and Huddersfield Rams.

It presents a menu for semi-finals next weekend which will see the Mozzies (1st) taking on the Rams (4th) and the Scorpions (2nd) up against the Wolverines (3rd). Whilst finals are a different level of competition again to the home and away season, it is difficult to see the Rams causing an upset and usurping the Mozzies. The other semi, however, is less of a predictable match-up with the Wolverines certainly capable of beating the Scorpions if they bring their "A" game. A big 'if".

Whilst the Scorpions defeated the Wolverines by a huge margin the first time they met in May – by a cool 89 points - the result a couple of weeks ago was only a couple of kicks. The Wolverines gave the Scorpions a scare and should they do that again could well reach the grand-final. However, it is a long shot.

The Rams have taken on the Mozzies behemoth twice this season and gone down by 72 points and 111 points. There is little evidence to suggest they can reverse that trend and make a shock grand-final appearance.

Whilst anything can happen, the most likely results next weekend will see another Mozzies v Scorpions grand-final. The two have met in the past couple of premiership deciders, with the Scorpions narrowing the margins. But the Mozzies have gone through this season undefeated and have to be unbackable favourites to triumph again and look to hold up a fifth consecutive premiership cup.

And so, after a season of highs, lows, ups and downs, the finals arrive with the prospect of the performances sticking to the script – or possibly there will be an unexpected plot twist.

We will know very soon.





Comments (0)
---
World Footy News
http://www.worldfootynews.com/article.php/20180722212858717