Big Weekend For Southern England Teams
Thursday, July 05 2018 @ 08:44 am ACST
Contributed by: Wesley Hull
Views: 951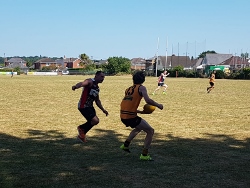 With the second round of the SEWARFL (combined Southern England and Welsh leagues) played on the weekend, the teams from the SEAFL enjoyed a successful day out at Southampton on a hot and largely cloud-free day. Aided by the inability of the Cardiff Panthers to attend, the "home" teams also managed to be ultra-competitive on the field as well.
The gap created by the missing Panthers meant that each of the SEAFL teams drawn to play them came away with a forfeit result, meaning three wins from three matches. That in itself would have been a valuable result for the Southampton Titans, Portsmouth Pirates and Sussex Swans, but better followed.
The opening match of the day saw the Chippenham Redbacks start in a positive way, downing the Sussex Swans by 30 points. It was an important win for the Redbacks in the context of their own season. Prior to this win, their best result had been a draw against the Titans in the opening SEWARFL tournament. This win will rejuvenate the team and become a foundation block for the rest of this year and beyond.
In a sizeable upset, the Titans downed the Bristol Dockers in the second match by 10 points. It was the perfect start to the day for the host team and a signal for the SEAFL teams to take the day right up to the WARFL teams. The Titans then backed up the win with another against the Redbacks, his time by a commanding 44 points. It completed a perfect day for Titans, winning all three of their matches (counting the forfeit later in the day).
With the rally cry having been issued by the Titans, it was the turn of the Portsmouth Pirates. They were unlucky to lose their match to the Dockers by less than a goal, yet once again the fighting spirit of the SEAFL teams was on show. To the Dockers' credit, they bounced back from their loss to the Titans to grab an important win.
It set the Pirates up for their next match – another tight clash against the Redbacks. Maybe it was their experience in the previous tight match, but the Pirates held off the unlucky Redbacks by just one point in a thriller.
In the final match, the Bristol Dockers restored order to their day with a powerful 53-point win against the Sussex Swans to give themselves two wins for the day – a reasonable return for an "away" fixture.
With the forfeit results counted as wins, it meant that the SEAFL teams came away from the day with six wins from nine scheduled matches. This has seen the Southampton Titans clear away to a four point break at the top of the SEAFL ladder. The Bristol Dockers are still on top of the WARFL ladder, well clear of the Panthers and Redbacks.
Final Scores:
Game 1 - Chippenham Redbacks 10 7 67 d Sussex Swans 6 1 37
Game 2 - Southampton Titans 9 1 55 d Bristol Dockers 6 9 45
Game 3 - Portsmouth Pirates d Cardiff Panthers (Forfeit)
Game 4 - Southampton Titans 10 6 66 d Chippenham Redbacks 3 4 22
Game 5 - Bristol Dockers 3 10 28 d Portsmouth Pirates 3 5 23
Game 6 - Sussex Swans d Cardiff Panthers (Forfeit)
Game 7 - Portsmouth Pirates 6 8 44 d Chippenham Redbacks 7 1 43
Game 8 - Bristol Dockers 12 8 8 d Sussex Swans 4 3 27
Game 9 - Southampton Titans d Cardiff Panthers (Forfeit)