A Week Is A Long Time In Footy – AFLG
Monday, June 25 2018 @ 09:23 pm ACST
Contributed by: Wesley Hull
Views: 2,415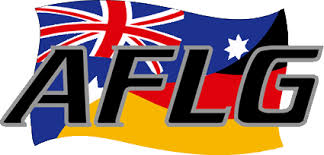 Last week the Württemberg Giant were celebrating a win against the Frankfurt Redbacks. On the weekend, they were brought back to earth by a rampant Munich Kangaroos team, going down by 124 points. The result wasn't a surprise to either team, but the margin was bigger than the Giants would have hoped. However, with jostling for top four positions intensifying ahead of the finals, top teams are very aware of how important percentage will become.
Most teams have only two more matches left, and the top three teams – the Kangaroos, Hamburg Dockers and Berlin Crocs – will be locked in a tight battle. Teams in their way are sure to feel the heat as the top three start to flex their muscle. Certainly, that is what happened to the Giants.
Similarly, the Rheinland Lions – also last start winners against the Dresden Wolves – were stopped in their tracks by a Hamburg Dockers outfit that was both on the rebound from their narrow last start loss to the Berlins Crocs and also intent on ensuring their percentage stays healthy enough to stay ahead of their competitors.
To drive the point home further, the remaining match for Round 7 will see the Berlin Crocs host he Dresden Wolves and you can bet the Crocs will be after every possibly advantage the game can bring.
Currently, the Dockers and Kangaroos are locked on seven wins apiece. Should the Crocs win on the weekend, as widely expected, they will be a game off the pace. Their own percentage is a very healthy 197%, but the Kangaroos is 262% and the Dockers a whopping 429%. The Crocs have plenty of ground to make up if they want to challenge for a flag from a top two position.
It is this competitiveness at the top end of the ladder hat will send shivers down the spine of anyone drawn to play the top three.
After this weekend's match in Berlin, the league has a mini break with hostilities resuming for Round 8 in late July. That round will see a blockbuster with the Crocs hosting the Dockers in Berlin, the Rheinland Lions hosting Dresden Wolves in Cologne and the Munich Kangaroos hosting the Frankfurt Redbacks.
It is clear that places in the top four are still on the line, including the battle for fourth place between the Lions and Redbacks. There is much to be excited about in Germany over the next few weeks for Australian Football fans.
Final Scores:
Munich Kangaroos 27 12 174 d Württemberg Giants 8 2 50
Hamburg Dockers 21 18 144 d Rheinland Lions 2 4 16