A Journey From Cairns To Arden Street
Sunday, June 17 2018 @ 07:36 pm ACST
Contributed by: Wesley Hull
Views: 2,601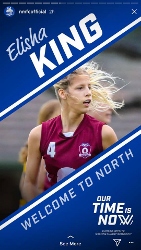 Prologue: It was 2009 and a nine year old girl, Elisha King, was playing for Hambledon State School in their first ever girl's carnival. Almost three years younger than most of the other girls on the field, Elisha had to be given special consideration to be allowed to play. Thankfully, she was allowed and was by far the best Hambo girl on the field, with three goals on the day, as the team finished runners-up to St Joseph's school by a solitary point. 
It was the start of my own three-year period of coaching Elisha in school teams, but more significantly, it was another step on a journey that has seen Elisha selected by the North Melbourne Kangaroos AFLW team. The girl who promised so much back when women's and girls' footy barely existed has made it to the highest level of the game – and that makes a great story. 
Jodi King is one proud mum. It is almost certain that without incredible family support, Elisha would most likely not have made it this far. According to Jodi, "Elisha's journey has been very long. She started at the age of six with Auskick.  [Elisha's early footy saw her] playing alongside [older brother] Hayden and watching [older brother again] Aaron play.  At the age of nine, Elisha also got involved in basketball and hockey. It was very hard for Elisha to stay with footy and she was making rep teams in both hockey and footy."
Jodi and family certainly provided plenty of incentive to follow the family line and play Australian Rules footy. Jodi added, "Elisha's father played footy in Melbourne in the VFL and also with Oakleigh in the VFA. Aaron played rep footy with Peninsula and Cairns Lions and was also picked for Queensland as an umpire and in their academy. Hayden played rep footy for Peninsula and Lions. We have all been mad Carlton supporters and are good friends with the Kernahans." 
Elisha has now made the move down to Melbourne to be part of North Melbourne's inaugural AFLW team. Like all of their recruits, the rest of 2018 is about preparation for the 2019 season.  However, taking time to reflect on her own journey, Elisha stated, "I just loved playing footy and it was so good trying to play better than the boys. I won the league's [AFL Cairns] Best and Fairest in Under 12s and was the first girl to do this. This is what kept me motivated." History will reflect that very few girls have ever won best and fairest awards in predominantly boy's teams. 
"I represented Cairns Dolphins in basketball and also represented Queensland in hockey in Under 12's, 15's ,and 18's and was part of their academy. It would have been easy to stick with hockey but my heart was always with AFL. [But I went from] school footy to Peninsula [regional] to Queensland school girls as well as Cairns Hawks juniors to Lions with the boys." 
'When I was twelve I got invited to play in the Cairns Lions' Under 18 team to go to the State Championships where I was selected in the Queensland Under 18 team to travel to Melbourne. I was a part of that Queensland team for five years and in their academy." 
"When I finished Year 12, I moved to Brisbane and worked with AFL Brisbane South as a Trainee Developed Officer. I was also training with the Brisbane Lions but tore my ACL which ruled me out of being drafted." 
Whether Elisha likes it or not, she has been a role model already to many young girls and that role is set to grow further as she becomes a player to look up to as a Kangaroo. When asked how the concept of role model sat with her, Elisha responded that she "didn't think about it back then. [But] working in Brisbane and teaching young kids [about] this wonderful game, I hope that the girls looked up to me and know that with hard work and dedication you can achieve anything."
When asked about the future for Elisha King, she replied, "[I'm] not sure what is next for me but at the moment it's all about training hard, staying fit and injury free ready for the 2019 season." Her new life as a North Melbourne Kangaroo has begun and so has the next phase of her life. 
The biggest current dilemma in the King household is whether Elisha's selection by the Kangaroos will see the family allegiance swing from Carlton to North Melbourne. Elisha's opinion is that "I'm pretty sure they will stay with Carlton but I'll make sure that they buy and wear the Roos jumper when they come to watch me. They can stay Blues for the men and Roos for the women." 
Since 2009, I have coached girl's footy teams and watched the development of the game at grass roots level with interest. If there was one thing lacking it was a local role model at the highest levels of the game that could be adopted by local girls as a tangible example of how far a local girl can go.
Now we have Elisha and we can proudly watch her progress in the AFLW. We can also continue the search for the next Elisha King. We wish her every continued success on an incredible journey that still has many chapters to be read.
Picure Credits: Top (North Melbourne FC), bottom (King Family)