Zagreb Hosts Opening CEAFL Tournament For 2018
Tuesday, June 12 2018 @ 09:32 pm ACST
Contributed by: Wesley Hull
Views: 1,209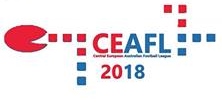 The Zagreb Cvjetno Dockers have taken the honours for the opening round of the CEAFL (Central European Australian Football League) tournament for 2018, held over the weekend in Zagreb. After an enthralling day's action, the Dockers held off the Velika Gorica Bombers in the final to head the ladder after the first of two tournaments – the other to be played later in the year in Prague in the Czech Republic.
The Dockers topped their pool after the initial two matches per side before winning their semi-final. The Bombers had a rockier road, but still managed to win their way to the final. The Zagreb Hawks downed the Sesvete Double Blues to take third place. The Styrian DownUnderdogs from Austria defeated the Prague Dragons by a solitary point in a thrilling battle for fifth and sixth places on the day.
The day also featured a women's match with the Zagreb Panthers becoming two teams for the event. The Panthers Black defeated the Panthers Blue 26 to 24.
The competition sees teams from three Central European nations – Croatia, Austria and the Czech Republic - play a dual-tournament series across the season, with a winner in each country and an overall winner decided after the final tournament. The victory in Zagreb for the Dockers places them in a very solid position to set up for enough wins in Prague to take the overall 2018 title – but time will tell.
Both the Bombers and the Hawks performed well on the day an cannot be discounted, especially as the top three teams, all from Croatia, now hand over home ground advantages to the Austrian and Czech teams which will level the playing field a little.
The next tournament for the series will be held in Prague on September 1st.
Already this competition is important for the growth of the game in those nations involved. With the possible re-inclusion of Italy across coming seasons and maybe even a team from Switzerland in the future, the CEAFL may yet grow further in size and importance to European footy.
Final Scores:
Group A
Sesvete Double Blues 29 d Zagreb Hawks 25
SeseteDouble Blues 56 d Styrian DownUnderDogs 13
Zagreb Hawks 56 d Styrian DownUnderDogs 8
Group B
Zagreb Cvjetno Dockers 57 d Prague Dragons 10
Velika Gorica Bombers 87 d Prague Dragons 21
Velicka Gorica Bombers 22 d Zagreb Cvjetno Dockers 7
Semi-Finals
Zagreb Cvjetno Dockers 40 d Sesvete Double Blues 8
Velika Gorica Bombers 58 d Zagreb Hawks 8
5th Place Final
Styrian DownUnderDogs 23 d Prague Dragons 22
3rd Place Final
Zagreb Hawks 40 d Sesvete Double Blues 17
Final
Zagreb Cvjetno Dockers 49 d Velika Gorica Bombers 9