Crocs Down Dockers In Hamburg Thriller
Monday, June 11 2018 @ 05:54 am ACST
Contributed by: Wesley Hull
Views: 2,408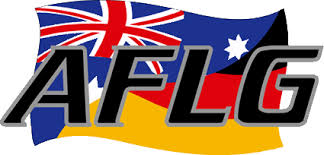 Billed as the match of the season to date prior to the ball being bounced, the clash between the Hamburg Dockers and the Berlin Crocs promised plenty. The clash between the reigning premiers and the undefeated Dockers delivered in spades with the Crocs holding on for a one-point victory.
It was a win against the odds in many ways for the Crocs. Travelling to Hamburg to meet the Dockers on their home soil would have been tough enough, but the fact that the Dockers sat undefeated gave them an air of not invincibility, but certainly strength.
The Crocs started well, however, and jumped early to a 33 to 16 quarter time lead. The Dockers came back at them in the second quarter to reduce the margin to just nine points by the main break, the Crocs still leading 46 to 37. The question would be whether the Crocs could capitalise on their narrow first half lead.
Wayward kicking was starting to hurt the Dockers. They had more scoring shots that the Crocs in the third quarter, yet the Crocs were able to extend their lead to an even two goals by the final break (65 to 53), and it is just as well they did.
The Dockers threw everything at the Crocs in the final term, and played the perfect defensive game, keeping the Crocs scoreless for the last quarter. But that hard work was undone by their kicking at goal. The Dockers managed just one goal from their six scoring shots in the final quarter, which was enough for the Crocs to hold on by the narrowest of margins, recording a one-point win in a wonderful game to watch.
Rowan Miegel kicked seven goals for the victorious Crocs while Sean Gilbert kicked four for the Dockers. The victory for the Crocs sees them now just a game behind the top placed Dockers but in third place.
The Munich Kangaroos remain in second place after a big win against the Frankfurt Redbacks on the road. Their 107-point victory showed a merciless streak as the Roos look to challenge the Dockers for top spot as well. The loss was a big setback for the Redbacks as they dropped out of the top four, replaced by the Rheinland Lions.
The Lions travelled to Dresden to record a strong win on the road against the Wolves to draw level with the Redbacks on points but with a superior for and against record. The loss sees the Dresden Wolves anchored to last place on the ladder.
Round Six next weekend sees a single match with the Württemberg Giants hosting the Frankfurt Redbacks in Esslingen. It is a vital match for both teams and promises to be a huge game. For the Redbacks, a win sees them stay in the finals race. The Giants are keen for another win to keep their own faint finals race alive, but also to continue their own growth with another scalp.
Final Scores:
Berlin Crocs 10 5 65 d Hamburg Dockers 8 16 64
Munich Kangaroos 20 13 133 d Frankfurt Redbacks 3 8 26
Rheinland Lions 114 d Dresden Wolves 32