Dockers Take Swedish Cup In Thriller
Tuesday, June 05 2018 @ 06:38 am ACST
Contributed by: Wesley Hull
Views: 1,645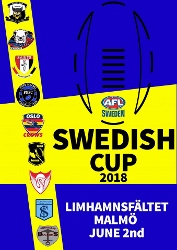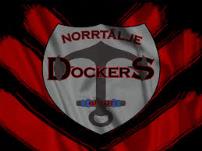 It has been a huge week for the Norrtälje Dockers in Sweden. Just days after having been officially announced as the hosts of the 2019 Euro Cup, the club has taken out the 2018 Swedish Cup. It was a day where their battle with host club, the Port Malmö Maulers, saw the teams equal on the scoreboard across the day with the Dockers winning at the right time.
The day saw a three-way men's draw with the Dockers and Maulers joined by a combined team from the Eksjö Bulldogs and Helsingborg Saints. The women's match featured the Port Malmö Lynx up against a combined Stockholm team.
The first game (Game 1) saw the women go into battle, with the Lynx proving too strong for the Stockholm team, winning by even points.
The men's draw got under way with a thriller between the host team, the Maulers, and the Dockers (Game 2). After a tight battle it was the Maulers holding on for a narrow two point victory. The next match (Game 3) saw the Maulers too good for the Bulldogs/Saints team, winning by 52 points. The last round robin match (Game 4) saw the Dockers down the Bulldogs/Saints by 41 points.
The grand final was exactly that. The Maulers and the Dockers played out another pulsating game. By half time, the Dockers held a narrow three point lead. In a reversal of their round match, they withstood a huge fight from the Maulers to hold on by just two points. It was a fitting end to a great day of footy.
According to AFL Sweden, "[it was] a great day hosted by the Port Malmö club. Big thanks to the organisers for putting their time and effort in. Great to see representation from Helsingborg and Eksjö. We need to encourage the other teams in Sweden to participate."
"The women's game was a fantastic spectacle and a big thankyou to the Malmö girls for helping out the Stockholm team with players."
"An evenly matched men's final with the result showing how close the game was. The Dockers took their first ever win against the Port Malmö Maulers and booked their ticket to the 2019 Champions League together with the Port Malmö Lynx women's team."
Final Scores:
Game 1 - Port Malmö Lynx 5 5 35 d Stockholm 4 4 28
Game 2 - Port Malmö Maulers 6 3 39 d Norrtälje Dockers 6 1 37
Game 3 - Port Malmö Maulers 9 8 62 d Eksjö Bulldogs/Helsingborg Saints 1 4 10
Game 4 - Norrtälje Dockers 8 5 53 d Eksjö Bulldogs/Helsingborg Saints 2 0 12
Grand Final:
Half Time - Norrtälje Dockers 2 3 15 v Port Malmö Maulers 2 0 12
Full Time - Norrtälje Dockers 5 3 33 d Port Malmö Maulers 5 1 31