Mozzies Strengthen Flag Claims – AFLCNE
Sunday, June 03 2018 @ 08:04 pm ACST
Contributed by: Wesley Hull
Views: 1,169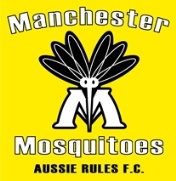 On a dreary afternoon, ideal for playing wet-weather football, the Manchester Mozzies took another step towards a possible fifth consecutive premiership flag. This time, the Mozzies took down a gallant Wolverhampton Wolverines team by 38 points, adjusting to the conditions better and just playing a class above.
The worrying news for the rest of the AFLCNE teams is that their form since their first round bye has seen them play their most conceivable grand final opponents with wins against the Rams (62 points), the Scorpions (67 points) and Wolverines. The only opposition they are yet to play are the Merseyside Saints and they would be a long shot at best to change the scenario. It is hard now to see any team capable of stopping the Mozzie's runaway train.
The final score saw the Manchester Mozzies 11 18 84 defeat the Wolverhampton Wolverines 6 10 46.
The Merseyside Saints managed to get their first points for the season when they won their clash with the Nottingham Scorpions by forfeit. It isn't the way any team really wants to get four points, but the Saints are not in a strong bargaining position and will take all points on offer if it means staying in the race.
Next weekend sees the England Teams' Selection Day at Moderns RFC in Nottingham for the Dragonslayers and Vixens squads ahead of this year's Euro Cup. It is a great chance for some local AFLCNE talent to strut their stuff in both men's and women's trials.
The following weekend will see Round 5 hosted by the Wolverines. They play the Huddersfield Rams whilst the Manchester Mozzies will face the Merseyside Saints. The Nottingham Scorpions will have the bye and a chance to recalibrate after a stuttering recent run which has seen a win a loss and a forfeit.