Through Indigenous Eyes
Saturday, June 02 2018 @ 08:05 am ACST
Contributed by: Wesley Hull
Views: 2,319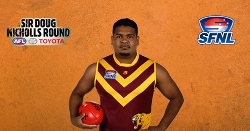 Back in 2012, World Footy News interviewed four indigenous teenagers about their football journey and where they might want to be one day (see
From Paradise To The Pinnacle Of Success
). With the Sir Doug Nicholls Indigenous Round of AFL football to take place this weekend across Australia – at grassroots level and the highest in the and – one of those young men looks back at his journey: in football and life, through indigenous eyes.
Josh Kyle now lives and plays footy in Melbourne – seemingly a million miles away from his spiritual and geographical home. His journey has been fascinating, yet it is one that many young indigenous players take to live a dream, and many more want to.
He is a born and bred Cairns boy, from Far North Queensland, first playing Australian football for Pyramid Power in the AFL Cairns competition and being a part of their Under 16 premiership team in 2013. But there is a strong sense that his journey could yet take him further than he ever dreamed.
"Being a young indigenous kid trying to find his place in the world in a surrounding that he is familiar with is hard enough, but having to move away from familiar surrounds to an unknown one is even more challenging for a young indigenous kid chasing a dream. Especially being in a generation where young indigenous kids are expected to not even graduate school."
"The hardest parts of my journey would be being away from home, and especially being away from my siblings and missing out on their own milestones growing up."
"Having a partner now and my little brother Josiah living with me really helps with the struggles of my own when I see him going through the same journey I have been down and still doing. So being a part of a family of my own now really shows that my work has paid off."
"Indigenous people are proud of indigenous round because of the recognition of our culture throughout the week. It's the recognition of all the lost souls through a terrible era. So when it comes to indigenous round we as indigenous people feel a strong connection to the meaning of the round. We play for our ancestors in every indigenous round. We use this round as a way to highlight the success and struggles our ancestors have endured."
"I have my family in my heart and mind every day. It's what gets me through tough times. My greatest supporter will always be my mother. Being a single mother and raising eight children on your own is an inspiration all in itself. The thought of where I have come from always helps me on my journey."
"Every game I challenge myself to be better than I was in my previous game. As a pre-game routine I tend to keep quiet and think of possible scenarios and think of the most effective way to deal with them all whilst kicking a tennis ball against the wall to get my hand-eye coordination ready for the game. So before I warm my body up I warm my mind up."
"I do still have AFL aspirations being 21 years old, I am trying to make my way up by going to higher leagues. Hopefully I can get in to VFL level soon as I am starting to get really serious with my fitness and the way I play my footy."
"I can't really describe the pride I feel. I know for a fact that my pride in my identity over weighs my love for football. The feeling I get when I see a success story of a young indigenous man definitely fills my heart with pride and joy just because my people are making a difference and changing the stereotypes that are set upon us by society."
"The only way I can get this feeling daily is by helping young indigenous men and women achieve their dreams and putting a stop society's expectations. So I'm doing so, I have created my own indigenous corporation called Dream Catchers."
"But I think that can be a story for another time."
Not only has Josh told his story so eloquently, he has also shared a story that is inspirational as it is enlightening. There is so much more to the Sir Doug Nicholls Indigenous Round. Behind the drawcards of the AFL matches this weekend are the stories of real people and their paths through life.
Maybe Josh's story and the path he has taken can be the catalyst for others to follow in his footsteps, and that should be another part of what the Indigenous Round is about.
Picture Credit: Southern Football Netball League (SNFL)