Exciting Day In Galway – AFL Ireland Round 2
Monday, May 28 2018 @ 09:18 pm ACST
Contributed by: Wesley Hull
Views: 1,179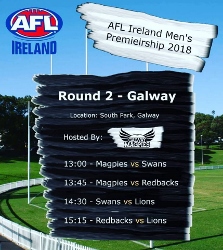 The upshot from the weekend's round of matches in Galway for the AFL Ireland Premiership saw the Belfast Redbacks race to the top of the ladder, undefeated with four wins now from four matches. Both the Galway Magpies and South Dublin Swans recorded their first wins of the season, and the Leeside Lions stumbled, losing both of their Galway clashes.
The host team had one of those cardiac days. Their opening match against the Swans was extremely tight and could easily have gone either way. In the end, the locals outlasted the Swans by just one point in a thriller. It was a great start for the Magpies and saw them open their 2018 account with a win.
In the next game, the Magpies proved that the first win was no fluke as they fought and scrapped against the Belfast Redbacks. In another heart stopper, the 'Pies went down to the Redbacks by just two points, despite having more scoring shots. It was certainly a good result for the Redbacks, keeping them undefeated.
The South Dublin Swans joined in with the winning tone of the day when they outlasted the reigning premiers, the Leeside Lions. In another hard fought battle, the Swans held the Lions at bay to record a two goal win – their first win for the 2018 season.
The Redbacks then took the field in what was, on paper at least, the match of the round against the Lions. Once again, the game was tight with neither side able to get a big break on the other. But by full time, the Redbacks had downed the Lions by 13 points to finish the round with four wins from four starts for the season to date. The Lions lost both of their matches to fall well behind the Redbacks.
The fall of the Lions also opens the door to both the Magpies and Swans. Each of them now sits one game adrift of the Lions in what has become a tight season after two rounds, with each team proving they are capable of good footy. With all games decided by virtually two goals or less, it bodes well for some great footy by all teams in coming rounds as the race for finals places starts to kick in.
Results from Magpies Carnival, 26th of May 2018:
Magpies 5-5-35 d Swans 5-4-34
Magpies 5-7-37 lost to Redbacks 6-3-39
Swans 7-6-48 d Lions 5-6-36
Redbacks 7-7-49 d Lions 5-4-34