Swans On Winners List – AFL London
Thursday, May 24 2018 @ 10:45 pm ACST
Contributed by: Wesley Hull
Views: 791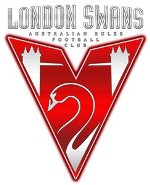 After a shaky start to their season, the London Swans hit back with a strong 48-point victory against the Wimbledon Hawks in Round Three of the AFL London competition. After an opening round drubbing from the Lions and a bye last round, the Swans needed to turn around their season quickly and did so at the expense of an out of sorts Wimbledon.
The result may prove a catalyst for the Swans to push for a finals berth later in the season as they keep the Hawks at bay for now.
In the second match of the weekend, two of the heavyweights in the West London Wildcats and North London Lions fought out a tough, tight game. In the end it was the Wildcats holdout out for 1 12-point win to keep them close to the Wandsworth Demons. The match showcased both team's determination and proved that little separates the top three teams. In the Women's Premiership matches, the Demons and Lions both recorded big victories.
The first round robin format of the combined Southern England and Welsh leagues was also played with the Bristol Dockers and Cardiff Panthers dominating the day with two wins each.
Men's Premiership
Wildcats 11.17.83 def Lions 11.5.71
Swans 12.11.83 def Hawks 5.5.3
Women's Premiership
Lions 10.10.70 def Wildcats 0.3.3
Demons 13.12.90 def Giants 0.0.0
Southern England & Welsh Leagues
Sussex Swans 7.5.47 d Chippenham Redbacks 2.5.17
Southhampton Titans 0.2.2. def by Bristol Dockers 11.7.73
Portsmouth Pirates 3.3.21 def by Cardiff Panthers 7.5.47
Southhamton Titans 6.3.39 drew with Chippenham Redbacks 6.3.39
Portsmouth Pirates 2.2.14 def by Bristol Dockers 7.5.47
Sussex Swans 5.3.33 def by Cardiff Panthers 7.4.46
Portsmouth Pirates 5.10.40 d Chippenham Redbacks 2.6.18
Swans 4.4.28 def by Dockers 14.5.89
Titans 1.5.11 def by Panthers 5.10.40
Central & Northern England
Mosquitoes 20.15.135 def Rams 11.7.63
Scorpions 22.20.152 def Wolverines 8.13.63