Order Restored As AFLCNE Giants Reign Supreme
Wednesday, May 23 2018 @ 09:21 pm ACST
Contributed by: Wesley Hull
Views: 1,048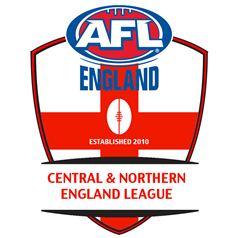 For two seasons, the Manchester Mozzies and Nottingham Scorpions have set the pace in the AFLCNE competition. Whilst, from time to time, other teams have shown signs of a challenge to their dominance, by grand final day both teams had proved they were a touch of class above the rest.
This season had seen the Wolverines off to a blistering start and the Rams playing well. But come last weekend, the Mozzies and Scorpions had risen above the early season cobwebs and announced that, in all likelihood, they will gain dominate the season.
In the weekend action in Manchester, the Nottingham Scorpions dished out an 89-point lesson to the Wolverhampton Wolverines whilst the Manchester Mozzies downed the Huddersfield Rams by 62 points. The victories have seemingly set in place a clear hierarchy – two clear favourites to challenge again, two worthy combatants on the next tier and the Merseyside Saints needing to turn their season around dramatically to challenge.
It is still a long way to the finals, with variables such as injuries, travel, player availability, weather and form capable of creating change. But it appears that after just three rounds of the AFLCNE season, a pecking order is established.
Next round will see the focus turn to Liverpool as the Merseyside Saints host the matches. The Saints will have their hands full against the Scorpions, whilst the Mozzies come up against the Wolverines. The Huddersfield Ram have the bye. Certainly, if results go the expected way, the top two teams could move further away from the challengers.
This weekend is the Bank Holiday, so matches will resume on June 2nd as the season closes in on the half way point.
Final Scores:
Manchester Mosquitoes 20.15.135 d Huddersfield Rams 11.7.63
Nottingham Scorpions 22.20.152 d Wolverhampton Wolverines 8.13.63
Merseyside Saints - Bye