Bloods Bounce Back - SARFL (Scotland)
Monday, May 21 2018 @ 07:59 pm ACST
Contributed by: Wesley Hull
Views: 872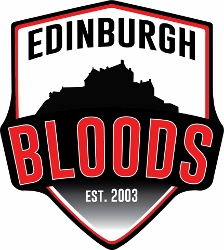 The Edinburgh Bloods have come back hard after their last round loss, downing last season's premiers the Greater Glasgow Giants on the road a week after going down to the Glasgow Sharks in a tight, tough match. The result gives the Bloods two wins from three starts this season and sets them up well for a run to the finals later in the season.
The loss for the Giants could prove disastrous, in terms of defending their title, as they are now winless after their own first three matches. They face an uphill battle now to keep up with the pacesetters and will need a big change of fortune in coming weeks. Given that the new format with five teams (not including the Eagles) means two teams can miss finals altogether, the pressure is mounting for the Giants to at least get some momentum.
The Bloods Facebook page states, "the Bloods have come away with a hard fought win on the road. We had a strong first half, weathered a [third quarter] wobble then pulled away late in the game to secure the victory. Final score 93-68. Thanks to the Giants for another hard but fair game played in the right spirit."
In the other match of the round the Glasgow Sharks continued their undefeated run, easily accounting for the Kingdom Kangaroos. Once again, the Sharks' scoring power was on show with another 100+ point score – a constant in all three of their wins to date. This time it was a luckless Kingdom Kangaroos team that felt their wrath. This time, the Sharks racked up an impressive 159 to 72 victory to secure top spot as the only undefeated team and consign the Roos to a battle with their own demons. Whilst they have only lost one official home and away game with the loss to the Sharks, their other defeat was to newcomers the West Lothian Eagles, so the Roos are still searching for their first win of the season.
Next round will see four desperate teams. The Tyne Tees Tigers will host the winless Roos, whilst the West Lothian Eagles will host the also winless Giants in what shape as fascinating matches. The Tigers have already proved that their home ground advantage is real after downing the Giants in Newcastle a few weeks ago. It will be a tough task for the Roos.
The Eagles have already won one more game than some expected when they took down the Roos in their maiden match and win. The Giants need the win, but you can bet the Eagles can smell blood and will super keen for win number two in their developmental season.