Hamburg Dockers Lead The Way
Monday, May 07 2018 @ 05:52 pm ACST
Contributed by: Wesley Hull
Views: 1,729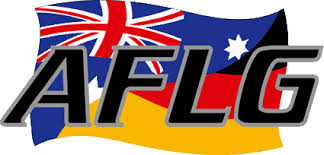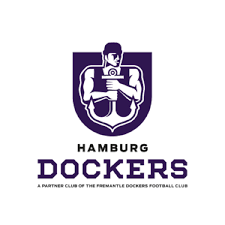 After three rounds of the AFLG (Germany) competition for 2018, the Hamburg Dockers find themselves a game clear on top of the ladder with each team having completed four games. The Dockers sit undefeated to date, though the Berlin Crocodiles and Munich Kangaroos are breathing down their necks a game behind.
The weekend saw round robins played in both Hamburg and Berlin. In Hamburg, the Dockers, Frankfurt Redbacks and Dresden Wolves contested two matches each. In Berlin, it was the Crocs, Roos and Württemberg Giants locked in their own three-way battle.
The Hamburg Dockers sent a strong message to all other teams with two comprehensive wins, dismantling the Redbacks by 84 points and the Wolves by 110 points. Coupled with their round two wins against the Wolves (again) and, significantly, Munich, the Dockers are already showing the form that could win them this season's flag. In the other match, the Frankfurt Redbacks won their second game of the season downing the Wolves.
In Berlin, the host team had a mixed bag. They went down in a tight match to the Munich Kangaroos after leading narrowly at half time. The Roos came back hard to snare a seven-point win. The Crocodiles won their other game against the Württemberg Giants comfortably by 57 points. Munich won their encounter with the Giants by 65 points.
The Rheinland Lions had a bye this round.
Round Four on May 26th will see the Frankfurt Redbacks hosting both the Hamburg Dockers and Württemberg Giants in their round robin draw. In Munich, the Kangaroos will host both the Berlin Crocodiles and the Rheinland Lions. The Dresden Wolves have the bye.
Round 3 Results:
(In Berlin)
Munich Kangaroos 11 8 74 d Württemberg Giants 1 3 9
Munich Kangaroos 7 7 49 d Berlin Crocodiles 6 6 42
Berlin Crocodiles 8 12 60 d Württemberg Giants 0 3 3
(In Hamburg)
Hamburg Dockers 14 14 98 d Frankfurt Redbacks 2 2 14
Hamburg Dockers 19 12 126 d Dresden Wolves 2 4 16
Frankfurt Redbacks 7 7 49 d Dresden Wolves 5 1 31
Round 2 Results:
(In Dresden)
Munich Kangaroos 15 11 101 d Dresden Wolves 4 4 28
Hamburg Dockers 17 6 108 d Dresden Wolves 3 3 21
Hamburg Dockers 6 7 43 d Munich Kangaroos 4 7 31
(In Cologne)
Berlin Crocodiles 13 11 89 d Rheinland Lions 2 3 15
Frankfurt Redbacks 11 7 73 d Rheinland Lions 6 11 47
Berlin Crocodiles 17 15 117 d Frankfurt Redbacks 3 1 19
Ladder After Round 3:
Hamburg 16, Berlin 12, Munich 12, Rheinland 8, Frankfurt 8, Württemberg 4, Dresden 0