Don't Ignore US Talent Says American Pie
Sunday, May 06 2018 @ 05:03 pm ACST
Contributed by: Wesley Hull
Views: 1,207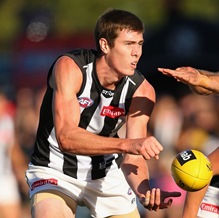 Ben Guthrie from the www.afl.co.au website reports that Collingwood's American success story, Mason Cox, believes that there is more talent on the way from the USA provided the AFL stays the course and keeps investing in that growth. The following article looks at his claims and a look at what has already occurred with American footballers. 
THE AFL's decision to put its Draft Combine in the US on hold this year and instead prioritise Ireland in its search for international talent is a mistake, according to American Pie Mason Cox. 
Cox, the tallest player to complete athletic testing in AFL conditions at the 2014 US Combine, has been one of the success stories of the League's decision to invest time and resources into the American pathway.  
The 211cm big man will play the 26th game of his career against Brisbane at the Gabba on Sunday, a remarkable achievement given the former Oklahoma State University basketballer had not picked up a Sherrin before the testing day in Los Angeles in 2014.
Cox told AFL.com.au the US talent pool remained untapped and he hoped he could be an example of why the League should persist with targeting former college athletes. 
"There's obviously a lot of guys that come out of college and they're athletically gifted, but they go into the workforce once their college careers are over and that's just the way they (Americans) think," the Collingwood big man said. 
"Hopefully the better I do and the more games I play it can show what the talent is out there and what's available." 
The AFL has travelled to the US annually since 2012 to hold trials for American athletes in a bid to add more ruck and key-position players to club ranks. 
The League has not ruled out returning to the States in the future, while clubs have the ability to scout players on their own accord.
Once his AFL career has finished Cox, who turned 27 in March, said he would be keen to play a role in identifying talent in the US and providing gifted athletes the opportunity to play professionally, even if they do not realise their dreams of making it in the NBA, NFL or as professional soccer players. 
"I do think there's a lot of talent there and I don't know maybe when my career's finished I can maybe take advantage of it," he said.
"It's a tough sell at times, but I think people coming out of college at 22 years old are still in their prime athletically and still have plenty of talent to give." 
Former St Kilda ruckman Jason Holmes, who played five games between 2015 and 2016, was the first born-and-raised American to play at AFL level after being picked up at selection No. 36 in the 2013 Rookie Draft. 
Holmes was delisted at the end of the 2017 season after four seasons on St Kilda's list, but remains a pioneer for Americans coming into the League. 
Cox, pick No. 60 in the 2015 Rookie Draft, has also had his struggles and many commentators have criticised his role in the team. AFL great Robert Walls even declared earlier this year that the American wouldn't "make it" at AFL level. 
Nonetheless, the big man has become a fundamental member of Collingwood's team and its forward line given his height and ability to create a contest.
Cox has booted four goals in five games this season and 31 in 25 games. 
"Most of my friends don't know what footy is, so to stay level-headed is probably a little easier than it is for others," Cox said. 
"At the end of the day I'm not really too worried about other people's opinions outside the four walls at Collingwood – it's really up to the coaches and players and they're the only people I really listen to because they're the ones that decide my fate on the weekend." 
Cox, who signed a three-year contract with Collingwood at the end of last season, said he still sometimes cannot believe the career path he has forged. 
"I'm so blessed to have all these stops on the rollercoaster that had to happen for me to land where I'm at," Cox said. 
"There's a lot of hard work that went behind it but there were also chances that I took advantage of. 
"It's pretty crazy to say that I'm in Melbourne, Australia playing AFL and playing for one of the biggest teams in the League.
"I'm sitting at 27 now and I've done more in a lifetime so far than I ever thought I would. It's been a great experience – I can't say anything more."
Ben Guthrie's original article can be viewed at: http://www.afl.com.au/news/2018-05-06/us-talent-pool-remains-untapped-says-american-pie